For queer refugees seeking asylum in the UK, Europe and North America, navigating the legal system can be difficult and even life-threatening. Lesbian Nigerian refugee Aderoke Apata faced more than a year in jail at Britain's Yarl's Wood Immigration Removal Center while immigration officers scrutinized her application for refugee status with suspicion that she was not really a lesbian. A decade later, she was called to the bar after earning her law degree and working in the service of other desperate refugees of limited funds. Read her story below, as previously reported by the UK's Attitude Magazine.
---
From the African Human Rights Media Network
Click here to register (free)
---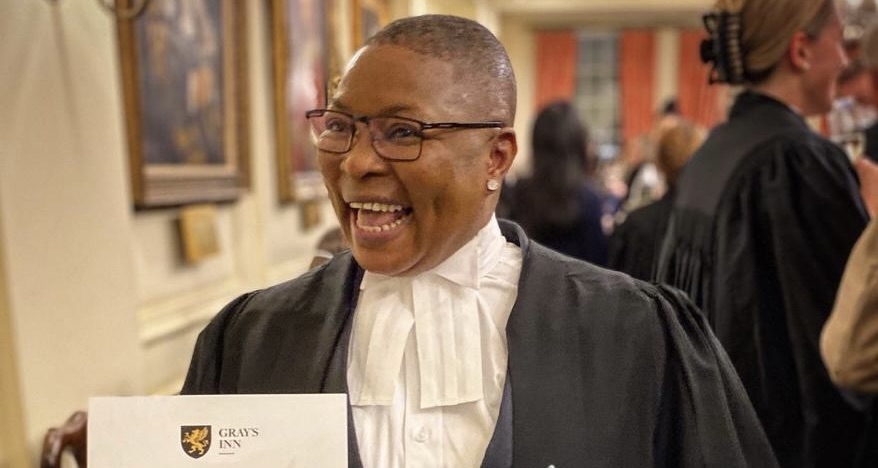 Attitude magazine reports:
Lesbian refugee arrested by the UK Home Office celebrates his bar exam
Lawyer and former Attitude Pride Award winner Aderonke Apata said she became an amateur legal expert while being held in a detention center by the UK Home Office.
The LGBTQ+ activist and CEO of the African Rainbow Family was officially called to the bar along with dozens of her newly qualified lawyers in early autumn (October 13) after beginning her legal education with a legal conversion course in 2018.
"It didn't dawn on me until I entered the hall where the bar ceremony was taking place that this was something monumental in my journey," Apata told the Guardian. "Even if I can only help a few people as a lawyer in the next few years, I'm satisfied."
Her journey to this point has been a long struggle: Apata lived in limbo for thirteen years and was almost forcibly brought back to Nigeria from the UK when her asylum application was rejected because she believed she had lied about being a lesbian be.
"It really, really sickens me and I felt so humiliated to be called a liar, especially when I, my person, are being questioned," Apata told Attitude in 2017 when she was presented with an Attitude Pride Award, everyday LGBTQ -Hero honors .
During the asylum process, Apata was forced to share explicit footage of herself with her friend to gather evidence for her case.
"I had to do that. I was desperate," she told us at the time. "Sharing the video of me and my girlfriend enjoying the privacy of our lives and having sex is dehumanizing."
Apata fled Nigeria because she is gay and her life was at risk of persecution should she return to the country.
"Daily life was tough," Apata said. "You would hear the preacher in church telling you that you are possessed by witchcraft, by evil spirits; that you would need an exorcism."
She was imprisoned in Yarl's Wood from late 2011 to early 2013 [Immigration Removal Centre, a detention centre for foreign nationals awaiting deportation from the UK] in Bedfordshire.
During her time in the pre-trial detention center, Apata revealed that she was initiated into the complexities of the Interior Ministry's legal jargon and made it her mission to explain the terminology and document nuances to her female fellow inmates.
"The type of language that the Interior Ministry uses is very difficult to understand," explains Apata. "But I learned a lot about immigration law from reading the rejection letters from the other women during the more than a year incarceration."
"An escort told me I wouldn't mind going back to Nigeria, but I couldn't answer," Apata recalls. "I knew it wasn't going to be good and that going back to Nigeria would mean death for me."
With limited resources to support her own case, Apata represented herself, fought her own deportation and successfully won her freedom from charter flights to Nigeria and gratefully secured her right to remain in the UK. [achieving refugee status in 2017].
[She began her legal training the following year, and was called to the bar this October. She] now wants to specialize in immigration and human rights work.
She told Attitude her desire is to "change the system," particularly as it relates to LGBTQ+ people.
"I knew I had to fight because I couldn't go back to Nigeria. If I hadn't been held in Yarl's Wood for so long, I probably would have pursued a career in public health," she also noted.
"If it weren't for what the Home Office did to me, I wouldn't be a lawyer today. In a way, they trained me."
Listen to Aderonke Apata's 2017 story below: