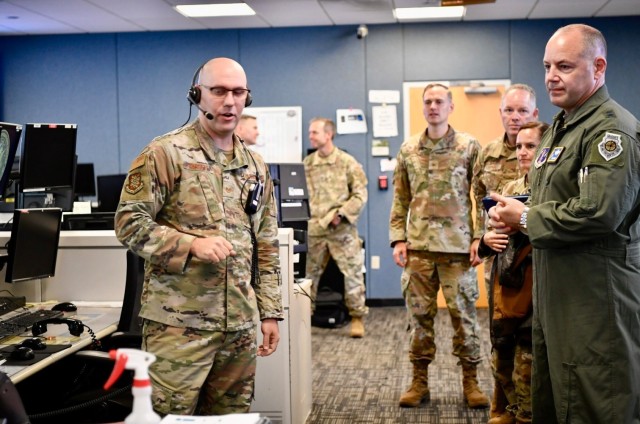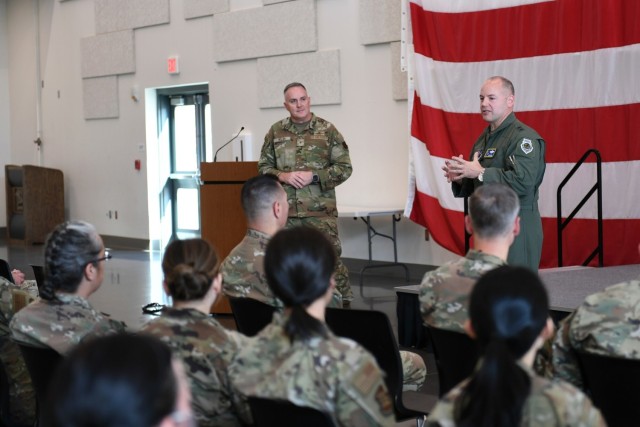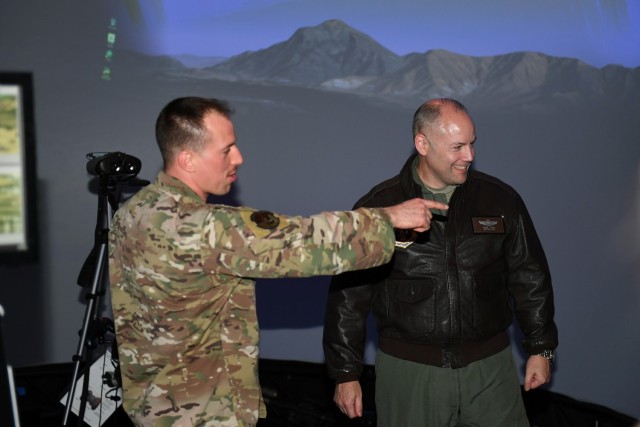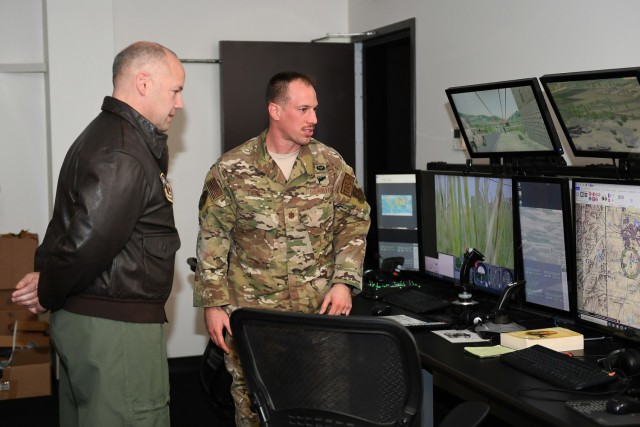 JOINT BASE LEWIS-MCCHORD, Wash. — Senior leaders from the Washington Air National Guard welcomed US Air Force Maj. Gen. Duke Pirak, Deputy Director of the Air National Guard, during a visit to Joint Base Lewis-McChord and Camp Murray, Wash. October 27, 2022.
During his visit to the western air defense sector, Pirak received a mission briefing for Operation Noble Eagle. ONE is the federal 24/7 mission, commanded by the North American Aerospace Defense Command, to deter, deny, and defeat potential threats to U.S. and Canadian airspace.
Pirak had the opportunity to walk through the WADS operations level and speak with airmen about their duties in data links, weapons control, aerial photography, and command and control departments. The WADS leadership spoke about how operational and multi-capable the WADS aviators are, and how they are renewing and advancing the theme of agile deployment in combat management.
While at the operational level, Pirak recognized the superior WADS performers by introducing Staff Sgt. Simin Waters, enterprise systems technician, 225th Support Squadron and Tech. Sergeant Jordon Schaefer, weapons director, 225th Air Defense Squadron.
Pirak held an all-call at the Pierce County Readiness Center at Camp Murray recognizing members of WADS and the 194th Wing for winning the 2020 and 2021 Larry O. Spencer Innovation Awards. The award recognizes the individual and/or team who demonstrate innovation in cost and staff savings to improve efficiency, readiness and replicate innovation across the Air Force organization.
The Washington ANG Innovation Team has developed the US Air Force's first artificial intelligence/machine learning-based combat management training system that can be scaled across the entire C2 tactical enterprise. Battle Management Training Next is a state-of-the-art video game-like training system that provides C2 Battle Management operators with sustainable, high-quality, and cost-effective repeat training. The team also created the first ANG State Coder Team to lead software builds for the Department of Defense's next-generation C2 platform. The team continues to work with industry-leading software teams to develop Joint All Domain Command and Control software "by the warfighter, for the warfighter."
After lunch with Junior Airmen, Pirak visited the 194th Air Support Operations Group, 143rd Cyberspace Operations Squadron, 194th Intelligence Squadron and 252nd Cyberspace Operations Group.
While learning about the unit's respective missions, Pirak took the opportunity to recognize three outstanding achievers in the 194th Wing: Tech. Sergeant Derek Henden, Network Engineer, 143rd Cyberspace Operations Squadron; Staff Sgt. Brett Grace, journeyman cyber-defense operations, 116th Air Support Operations Squadron; Staff Sgt, Kevin Snow, Cybertransport Engineer, 194th Intelligence Squadron.