Apple today released the first beta version of the upcoming iOS 16.3 and iPadOS 16.3 updates to public beta testers, making the new software available to the general public for the first time. The public betas come a day after Apple made the beta available to developers.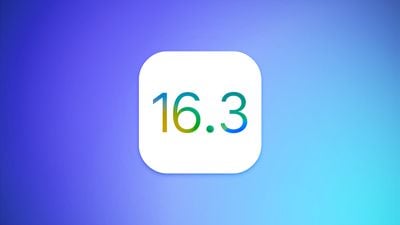 Public beta testers who have signed up for Apple's free beta testing program can download the iOS 16.3 and iPadOS 16.3 betas over the air after installing the appropriate certificate from the public beta website.
So far, iOS 16.3 and iPadOS 16.3 appear to be minor updates than the iOS 16.2 and iPadOS 16.2 versions. The software includes support for physical security keys to add an additional layer of protection to an Apple ID.
This feature allows a physical FIDO-certified security key to be used instead of device authentication when signing in to an "Apple ID" on iCloud or a new device.
The update also includes a streamlined process for transferring a song from an iPhone to a HomePod and vice versa, with Apple providing additional details on how it works. Other major changes have not been found in the beta so far.
Popular Stories
iOS 16.2 for iPhone released with these 12 new features
iOS 16.2 is now available for iPhone 8 and newer after two months of beta testing. With last-minute additions like Apple Music Singing and Advanced Data Protection, the software update includes over a dozen new features and changes for iPhone. Below we've summarized many of the new features available with iOS 16.2, including Apple's new whiteboard app Freeform, two new lock screens…
Apple releases AirTags firmware update
Apple today released a new firmware update designed for its AirTag item trackers, with the firmware having an updated build number of 2A36, up from the 2A24e firmware Apple released in November. Note that when installing the update, the version number is 2.0.36. There's no word yet on what's in the update, but Apple may provide a support document with…
13-inch MacBook Air with OLED display is scheduled for release in 2024
Apple plans to launch new 13-inch MacBook Air, 11-inch iPad Pro and 12.9-inch iPad Pro models with OLED displays in 2024, display industry adviser Ross Young said who has shared accurate information about future Apple products in the past. Young shared his latest information with his followers in a tweet on Sunday. Young didn't share any further details, but earlier…
Deals: Anker's New Gold Box Sale on Amazon offers up to 50% off charging accessories
Anker is back on Amazon today with a new Gold Box deal, offering up to 50 percent off a collection of its most popular charging accessories. Overall, these deals include savings on wireless chargers, USB-C wall chargers, portable batteries, MagSafe-compatible chargers, and more. Note: MacRumors is an affiliate partner of some of these providers. If you click on a link and make a purchase, we will…
iOS 16.2 is here: How to use all the new features
Apple has officially released iOS 16.2, the second major update for the iOS 16 operating system, which introduces a number of new features, functions and customizations for iPhones, including a karaoke-style mode for Apple Music, end-to-end encryption for iCloud -Backups, new live activity options and more. This article summarizes what's new and provides links to how-to articles that…
Apple releases new HomePod 16.2 software
In addition to iOS 16.2, iPadOS 16.2, tvOS 16.2, watchOS 9.2 and macOS Ventura 13.1, Apple today released new software for HomePod and HomePod mini. According to Apple's release notes, HomePod software version 16.2 adds performance and stability improvements, with no additional information. It's worth noting that along with the new iOS and macOS updates, the HomePod software has a…