A Dutch artist has found a way to let people on the frontlines of the war between Ukraine and Russia as fighting intensifies.
Dani Ploeger has traveled to Ukraine many times in recent years as tensions in the country remained high following Russia's annexation of Crimea in 2014.
A veteran activist and artist, he was no stranger to life in conflict zones and decided to try to reflect the "tension" of war.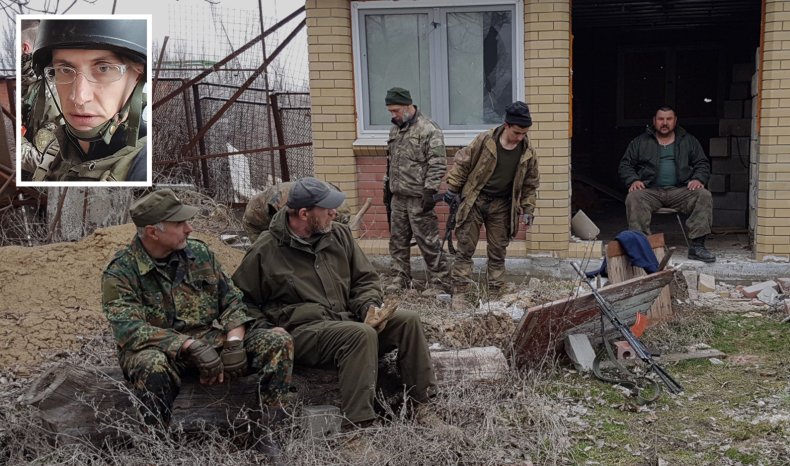 Ploeger created the work called contact line and used virtual reality (VR) technology to draw attention to an "aspect of warfare" that is often not understood or even imagined, he said news week.
With a loop of soldiers standing around waiting or smoking cigarettes while seated in trenches, Ploeger gives audiences a picture of war that is the opposite of what is often portrayed on the news or in movies.
"While most depictions of armed conflict tend to focus on eventful activity – spectacles, if you will – contact line develops around the often static waiting and tense situations that actually occur more frequently than combat situations," explains Ploeger news week.
The artist is no stranger to conflict situations, having lived in the occupied Palestinian city of Ramallah.
"Most of the time there was no visible violence. However, anything could happen at any time. And that usually happened, but you never knew when," he described.
"Time seemed like a process of tension, a constant wait for outbursts of physical violence."
in the contact line Users don a VR headset and headphones, then are asked to close their eyes and just listen before surveying the 360-degree landscape.
You'll hear the sounds of warfare, including gunfire, and then, when you open your eyes, be shocked to see the side-by-side images of men in military uniforms waiting idly.
"What struck me here was the tension that seemed to permeate everyday life, also because of the many soldiers who were preparing for or returning from the front in the city," said Ploeger.
He chose VR technology because the audience has an 'expectation of spectacle', or as he puts it, 'They see these headsets and they tend to think, 'Oh, something really exciting is about to happen.' "
But the reality of what they see is the complete opposite and therefore contact line compares the "expectations of VR technology".
The artists then further complicate the experience by asking the viewer to close their eyes, "and a violent war soundscape erupts," which is more in line with what people expect not only from war but also from the VR medium.
To create the "violent soundscape," Ploeger used field recordings of real weapons then used in the Russo-Ukrainian War.
He also let news week in another layer of the piece, revealing the line of soldiers in the video, they were all looped one at a time, "so the situation appears spontaneous but endless."
The viewer can then turn and meet Ploeger face-to-face, eventually revealing that the audience's point of view was "inside" a camera the whole time.
"This VR experience doesn't try to hide its virtuality," Ploeger added.
There has been fighting between Ukraine and Russia since Russia annexed Crimea, but an escalated conflict began in February when Russia invaded its neighbor.
Since then, almost 30,000 people have been killed and 14 million people displaced from their homes.
Latest from the front lines has shown that Russia is continuing its air strikes on Ukraine, targeting vital infrastructure and causing widespread power outages.
This follows an explosion on the bridge connecting Russia and Crimea. Russia labeled it a "terrorist attack" and subsequently arrested eight people in connection with the blast.
Line of Contact is screened as part of the extended program of the London Film Festival.