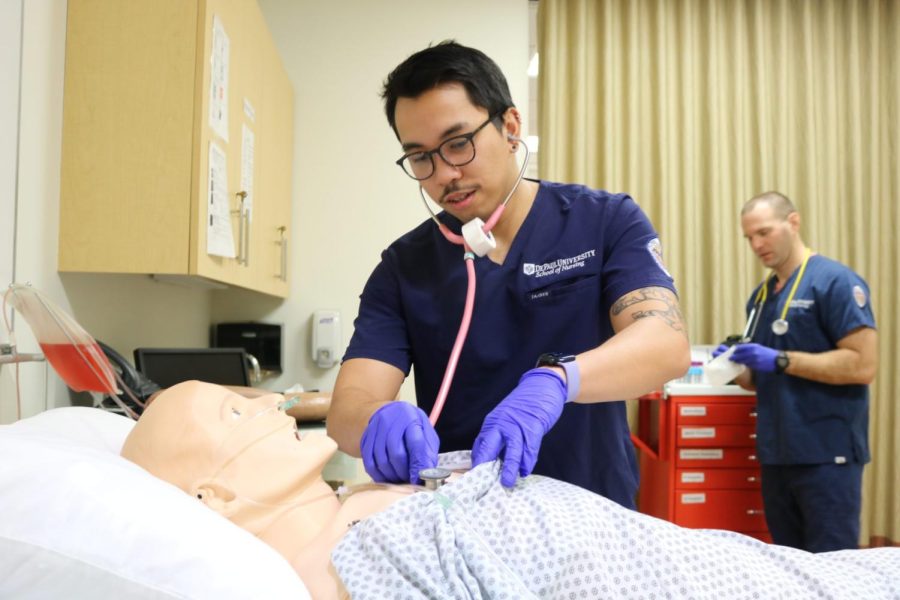 On October 6, DePaul's School of Nursing announced a relaunch of its Bachelor of Science in Nursing (BSN) program. This major is for new students at DePaul who do not currently have a nursing license or a bachelor's degree. This start comes at a time when the nursing shortage is predicted to worsen American Association of Colleges of Nursing.
This path is one that the students at DePaul have been looking for. The program received 1000 applications for the program, which says it only has 35 spots available newsline.
"The BSN option is the more traditional option to become a registered nurse," said Stephanie Byrd, associate director of the BSN program. "This option is requested by DePaul students and we are pleased to be able to fulfill this request."
Students currently in the BSN program appreciate the opportunity presented.
"I chose the BS program at DePaul not only because of the urban setting, but also because of the tremendous amount of opportunity it offers me," said Olivia Palczewski, BSN freshman. "Although the BS program at DePaul restarted this year, I was drawn to this place to build my knowledge as a future nurse."
The BSN program is offered in addition to the school's Master's Entry to Nursing Practice (MENP). for non-carers. Unlike the MENP program, this is aimed at undergraduate students.
"After the MENP, I believe many future students who apply to DePaul will be interested in this new program. Having this opportunity to automatically go into nursing after high school is an amazing start to reaching future goals," Palczewski said.
In addition, the school offers a Master of Science in Nursing (MSN) and Registered Nurse (RN) for a Master of Science in Nursing (MSN) program, neither of which is an undergraduate offering.
However, students who have already entered college do not have an undergraduate nursing option at DePaul.
"You can get into our BSN program straight out of high school, while current DePaul students and transfer students can consider ours Master's program for entry into nursing practice' via the School of Nursing program listing website.
"I didn't have an opportunity to apply to DePaul's BSN program because I already have my undergraduate degree," said graduate student Ryann McKinnell-Jaroslawsky. "I wanted to educate myself, so I chose DePaul's MSN program."
The School of Nursing's rationale for restricting the program to high school seniors stems from the requirement to meet DePaul's liberal arts core and a desire to create a close-knit cohort.
"[This program] allows the liberal arts curriculum to fit throughout the program, even while attending nursing classes," Byrd said. "A care cohort develops that develops together through the four years at DePaul. The students can make contact with other students who have similar educational experiences early on in their studies."
Students who are already on the program think it will be a popular option for people exploring their college options.
"I think a lot of future students who apply to DePaul will be drawn to this new program," Palczewski said. "Having this opportunity to automatically do nursing after high school is a great start to meet future goals."