Chancellor Donde Plowman delivered her fourth on Thursday flagship addressfocused on record growth and student success at UT despite the disruptions of the past three years.
The flagship speech, delivered this year at the Natalie L. Haslam Music Center's Powell Recital Hall, is a tradition started by Plowman at her home inauguration ceremony in 2019. It offers the most senior leader of UT Knoxville the opportunity to speak directly with the campus community about the achievements of the past year and goals for the year ahead.
Before an audience that included Knoxville Mayor Indya Kincannon and powerhouse donors Natalie and Jim HaslamPlowman celebrated the various records broken by the university over the past year.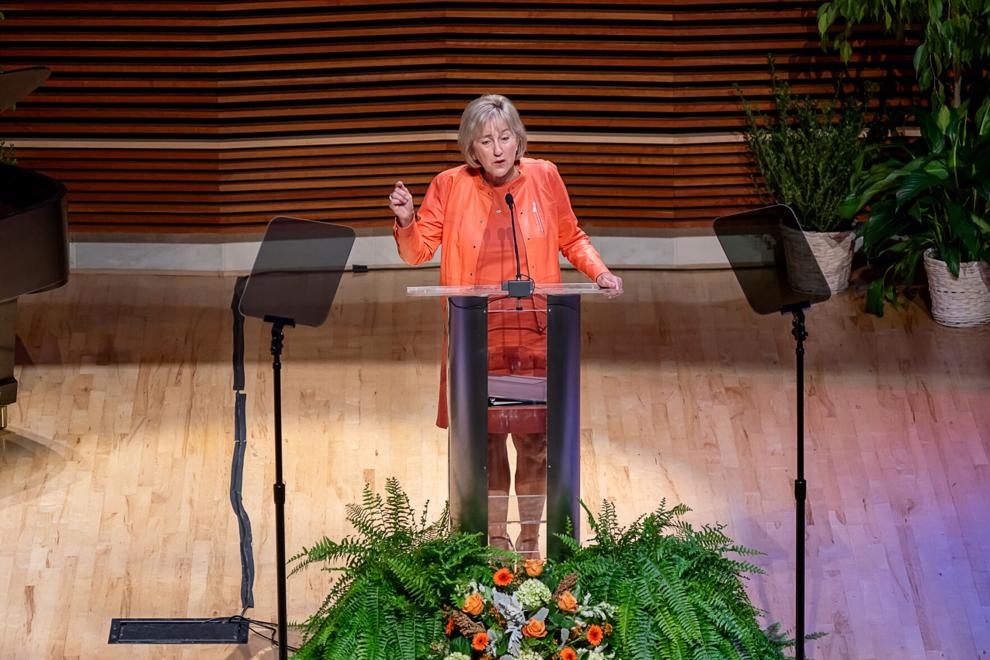 Plowman cites record students enrollmentCondition financing, Alumni donationsResearch expenses and honors for students, faculty and athletes.
In the last year alone, UT's total enrollment increased by 6.6%, from 31,701 students last year to 33,805 this year. Undergraduate student body grew 7.9% and the flagship campus outperformed all other UT campuses in the freshman intake with a 15.1% increase in this year's incoming class.
in a (n interview Speaking to The Daily Beacon, Plowman said the magnitude of the growth was due to flawed forecast models and was unexpected.
Although the rapid growth has caused many logistical problems, including Park and Housing Bottlenecks that have prompted the university to place students off campus hotel and an apartment complex, Plowman spoke of the growth as a sign of UT's vitality and popularity.
The address was structured around larger disruptions to higher education, and Plowman provided examples of how UT is dealing with it.
On the subject of Waste Regarding enrollment at colleges across Tennessee, Plowman said that as a flagship land scholarship university, UT has a duty to increase enrollment and meet the demands of the workforce.
A centerpiece of Plowman's tenure was the proliferation of student success programs aimed at increasing enrollment and retention, including programs for student veterans, first-generation students, and students of color.
"The achievements we're building on now will set us up for the demographic shifts ahead," Plowman said. "To keep up with the demands of the future workforce, we must continue to improve access to quality education and ensure those who enroll graduate. Our commitment to this campus-wide work, inside and outside of the classroom, will keep our enrollment strong and our graduates successful."
Although the address focused on disruptions to higher education, Plowman failed to mention the source of many disruptions: the ongoing COVID-19 pandemic.
The notable omission was a clear signal that university leadership no longer views the pandemic as a threat to campus or an obstacle to future plans.
Plowman was criticized in the early years of the pandemic for the university's COVID-19 regulations, including turning away staff and faculty who protested Flagship address of the past year with calls for stricter enforcement of the mask requirement and more virtual classes.
tiller announced the end of COVID-19-specific health guidelines in March of this year after the CDC downgraded Knox County to a medium-risk level. Knox County is currently at one low risk level.
Another disruption that Plowman UT says is working to address is the erosion of public trust in colleges. She said UT will fight mistrust by providing "worker-ready" degrees and more opportunities for online learning.
"We are committed to developing more distance learning undergraduate programs with the same high standards as our on-campus courses," Plowman said. "We don't have to build from scratch."
Though Plowman's staffing vision is centered on STEM and business degrees, she said liberal arts is an important part of educating students who would become desirable employees for a state that is fast becoming a hub for innovation.
"As the world becomes more complicated, the solutions to some of society's greatest challenges can be found in the interplay of natural and social sciences, engineering and humanities," said Plowman.
The comment comes after nearly 300 faculty members at the College of Arts and Sciences signed a letter opposing Plowman's proposal to restructure the college, saying the advisory process undervalued the humanities and social sciences.
Plowman and Provost John Zomchick met with department heads at the College of Arts and Sciences over many months this year to propose a plan that would split the college into three colleges: one for fine arts, one for humanities and social sciences, and one for natural sciences and mathematics.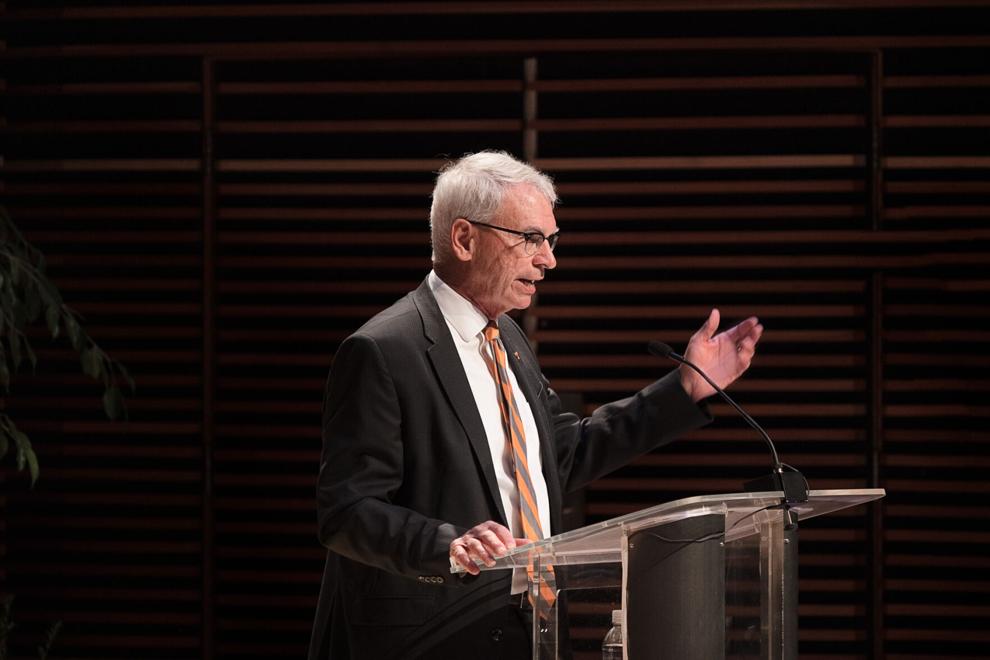 In a Sept. 19 email to faculty, Plowman said the plan had been revised based on feedback and would instead create a standalone College of Music and a new structure within the College of Arts and Sciences that would add departmental deans, to assist in the leadership and oversight of the largest college at UT.
The plan is yet to be approved by the board of trustees and was not mentioned by Plowman in Thursday's address.
As the growing political divisions of the past three years seep into campus life, Plowman said the Howard H. Baker Jr. Center for Public Policy and its new Institute of American Civics would help encourage listening across divides .
That Institute for American Civicscreated by a invoice in the state Legislature and funded directly from the state budget, was announced by Governor Bill Lee in his state of the state address in January.
According to Lee, the institute will encourage bipartisanship and "educated patriotism" in combating it "anti-American thinking" The institute is modeled after the public curriculum of conservative Christian Hillsdale College, a connection Lee landed controversy over the summer.
In August, a fellowship committee for the institute was announced, which includes former Tennessee governors Bill Haslam and Phil Bredesen.
Haslam, a Republican, and Bredesen, a Democrat, started a non-partisan podcast called Baker Center "You may be right," where guests like former House Speaker Paul Ryan and former Vice President Al Gore discuss politics.
In a press conference after the speech, Plowman said the institute would be helpful in facilitating productive conversations.
"Personally, I'm excited about it, and I think our state is too, because they put the money into this new institute, so we're really lucky in that regard," Plowman said. "It was a totally bipartisan engagement."
Much of UT's growth has been attributed to Plowman's leadership. In May, UT System president Randy Boyd increased the chancellor's salary from $660,000 a year to $820,000 a year, citing her consistent leadership during the pandemic and results-oriented drive for growth.
In his introduction to Thursday's flagship speech, Provost John Zomchick shared Boyd's admiration for Plowman's leadership.
"As you know, the last three years have presented us with challenges that none of us could have imagined. But I think you also know that we've had wonderful successes in that time," Zomchick said. "I am more grateful than ever for Chancellor Plowman's leadership."
A full record and transcript of the address will be available on the Chancellor's website.