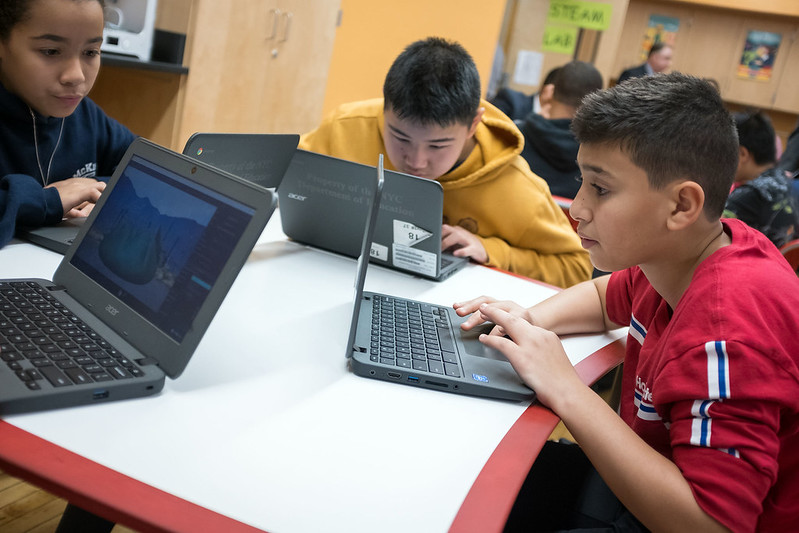 Students get connected (Photo: Ed Reed/Mayoral Photography Office)
---
The City Council's Technology Committee will hold a hearing on Monday to examine disparities in broadband internet access across the city and discuss legislation that would narrow that digital divide. The hearing is set to come just hours after Mayor Adams announced the new "Big Apple Connect" program, which aims to provide thousands of NYCHA residents with free internet and cable television services to better connect low-income public housing residents.
Despite living in the richest city in the richest country in the world, almost 15% of New Yorkers have it no access to broadband Internet of any kind at home, and about 24.2% do not have a desktop or laptop computer in their home, according to data from the 2019 US Census American Community Survey. This gap in access and connectivity proved an even more pressing issue at the height of the COVID-19 pandemic, when much of work, schooling and access to city services was done online.
New York City launched an Internet Master Plan, released in 2020 by then-Mayor Bill de Blasio, designed to bridge the digital divide by expanding broadband infrastructure and using various mechanisms to provide free and affordable internet access across the city. But the plan was slow to move forward and was blocked by the administration of Mayor Eric Adams this year when the new mayor took office.
At Monday's hearing, city council members are expected to question officials in the Adams administration about the progress they are making and whether the Internet Master Plan is reaching those most in need in the city.
"The idea was to outline and create a plan for affordability and access to the internet and really prioritize low-income, marginalized households who we obviously realized during the pandemic weren't connected and were having a really difficult time, to be connected," he told City Council Member Jennifer Gutiérrez, a Brooklyn Democrat and chair of the council's Technology Committee, in a phone interview. "We want to make sure the Internet Master Plan reflects solutions for these communities in our city."
Gutiérrez said the hearing is an opportunity to hear from New York City's chief technology officer, Matthew Fraser, and ISPs about their efforts to meet the master plan's goals. "The longer we wait, the longer we obviously endanger families and communities who are suffering because they simply don't have access," she said.
The councilor said the city "cannot afford to fall asleep at the wheel" as both the federal and state governments have approved massive funds for broadband infrastructure that the city could draw on.
In addition to overseeing the city's plan and the Adams administration's efforts to bridge the digital divide, the committee will also consider four bills, including one sponsored by Gutiérrez that would require the city to purchase and distribute mobile hotspot devices to all New Yorkers Public would oblige students.
As public schools went remote because of the pandemic, the de Blasio administration made hundreds of thousands of tablet computers available with data plans to ensure students without internet access could study remotely. But even when it operated on historic scale, the program's rollout struggled, underscoring the lack of connectivity and technology in many low-income family homes.
Even after schools have reopened and students are back in class, distance learning can still continue in some form. Mayor Adams and School Chancellor David Banks have announced the continuation of pandemic-era policy that there would be no more snow days in the school year and instead students would study remotely when school buildings are closed due to snow.
"There is a concern that because so many children have returned to school, we have somehow separated ourselves from the families that need access, that need the hotspots," Gutiérrez said.
"It hasn't been perfect during the pandemic and we want to make sure we get it as perfect as possible," she added.
Gutiérrez acknowledged her bill could cost a significant amount, although she didn't specify how much. "It is more than necessary that we talk about the funding of our schools. I think we just don't have the capacity not to invest where we know it makes sense," she said.
Councilor Julie Won, a Queens Democrat, is the sponsor of two of the other bills hearing Monday. One would create a program for city officials to provide wireless Internet access to the public, while the second would require the city to create and distribute written materials on affordable Internet programs to all students at the beginning of the school year.
The second bill, Won said, is critical because there are several state and federal programs that subsidize Internet access, but many New Yorkers are unaware. "Even today when I go to my NYCHA (developments) I have to tell them about programs that are available to them because even though they qualify, they still pay out of pocket," she said in a phone interview.
Won also pointed out that some of these subsidy programs require online registration. "Isn't that ironic? They're trying to register people who need free Wi-Fi to register for Wi-Fi online," she said.
Won also intends to survey internet service providers about their efforts to build connectivity in underserved black and brown neighborhoods that have historically lacked access.
The final bill on the agenda, introduced by Councilman Robert Holden, a Queens Democrat, would require the city to create a website with information about franchise agreements with companies that provide cable television services.