Ecommerce
Surprise holiday sales exceed expectations
Despite persistent inflation and renewed headwinds in stores, US holiday sales got off to a strong start this year, especially online. Compared to 2021, Thanksgiving, Black Friday and Cyber ​​Monday sales are up. American consumers spent a record $5.3 billion online on Thanksgiving Day, up 3% from 2021.1 Merchants took advantage of big discounts and stores closed on Thanksgiving. Notably, mobile shopping accounted for 55% of online sales, up 8.3% YoY.2 Record online revenues from Black Friday and Cyber ​​Monday sales were $9.12 billion and $11.3 billion, respectively.3 E-commerce giant Shopify generated $3.4 billion in sales on Black Friday, a whopping 21% jump year over year.4 Cyber ​​Monday sales increased 5.8% year over year. Many retailers offered deep discounts at the start of the holiday season, including Amazon and Walmart, but they didn't dampen demand on Cyber ​​Monday.

Artificial Intelligence & Technology
Automation at your fingertips
More than a million people tried OpenAI's ChatGPT in the days following its release in November.5 The widely accessible artificial intelligence (AI) bot has skills ranging from chatting to writing essays and computer programs. The bot keeps dialog threads so it can refer to previous questions and answers to inform its next answers, and it can leverage vast amounts of information on the web. Large language models train ChatGPT to automatically construct text based on what it sees. To combat potential abuse of the chat feature, including plagiarism, OpenAI is developing a watermark to identify its work with a recognizable signature. ChatGPT is OpenAI's latest endeavor in the AI ​​space, with previous successes such as GPT-3's human-like written text and DALL-E's generative art.

Producers of renewable energy
Government funding for clean energy will remain in place
The Biden administration continued to invest in clean energy with $13 billion in new funding from the bipartisan infrastructure bill to expand and modernize the U.S. power grid.6 An improved transmission system is critical to President Biden's mission to reduce greenhouse gas emissions by 50% below 2005 levels by 2030 and achieve 100% clean electricity by 2035.7 The White House is also considering approving new transmission lines to support wind power transmission. The government announced a $550 million investment to implement community-based clean energy initiatives under the Energy Efficiency and Conservation Block (EECBG) program.8th Similarly, the Department of Energy (DOE) awarded $100 million to eight companies working at the forefront of clean energy technology advances.9

Lithium and electric vehicles
EV Revolution accelerates manufacturers' lithium plans
Electric vehicle (EV) manufacturers like Tesla, BYD, and General Motors have big plans for 2023 and beyond. Tesla has a lithium refinery project in the final stages of negotiations with Texas authorities. The company intends to invest approximately $365 million in the facility to support Tesla's sustainable product line.10 Chinese EV giant BYD is considering building a battery plant in the US with investments in electric school buses and battery components. In addition, the company aims to produce electric vehicles in Europe and secure lithium supplies from Chile. General Motors secured a $2.5 billion loan from the US Department of Energy (DOE) for Ultium Cells, the company's joint venture with LG Energy Solution.11 Ultium Cells will use the loan to accelerate production at its electric vehicle lithium-ion battery plants in Ohio, Tennessee and Michigan.

fintech
Buy now, pay later – the consumer savings guarantee in 2022
Americans are relying on the Buy Now, Pay Later (BNPL) method this holiday season amid inflation concerns. Leading BNPL platform Afterpay announced that online and face-to-face transactions have increased by 120% compared to the holiday season.12 Square and Afterpay's Festive Forecast Report foresaw this trend, with one in six Americans reporting plans to use BNPL during gift-giving season. Overall, BNPL usage increased by an estimated 68% in the week ended November 27 compared to the previous week. BNPL's revenue increased by 72% over the same period.13

internet of things
The US is aiming to regain domestic dominance in semiconductors
SK Siltron CSS, a new semiconductor manufacturing facility in Michigan, aims to domesticate US supply chain processes. The project is bound by the CHIPS and Science Act, which includes $52 billion in funding for US companies involved in semiconductor manufacturing for industries such as technology, electric vehicles, appliances and weapon systems.14 Taiwan Semiconductor Manufacturing Co. (TSMC) will bolster U.S.-based manufacturing of 4-nanometer chip semiconductors when the company opens its $12 billion Arizona facility in 2024.fifteen The company also plans to build a second plant nearby to ease supply chain concerns for major tech companies that rely on TSMC for chips, including Apple.

THE PAYMENT
The charts below examine returns and revenue growth expectations by theme, based on the corresponding ETFs.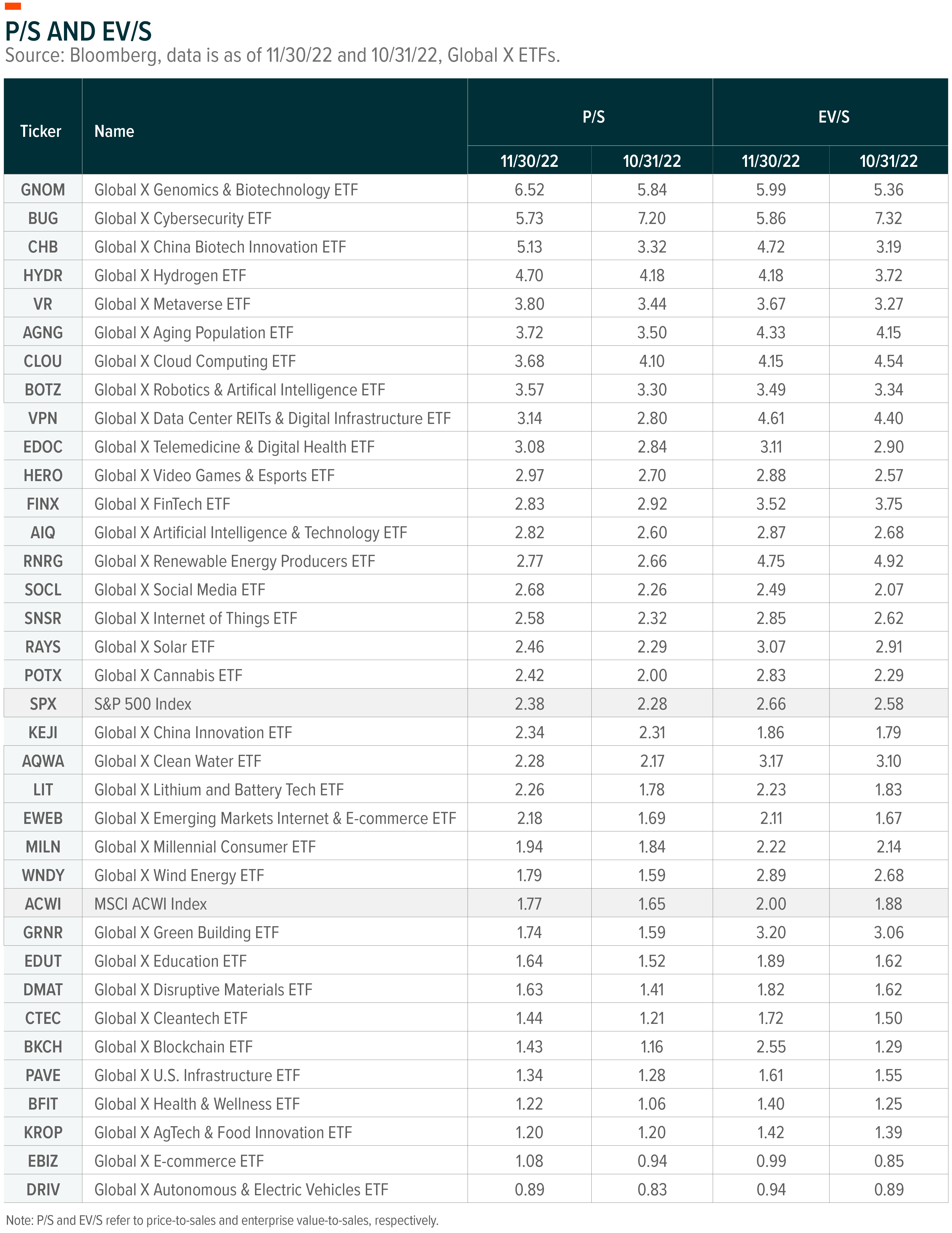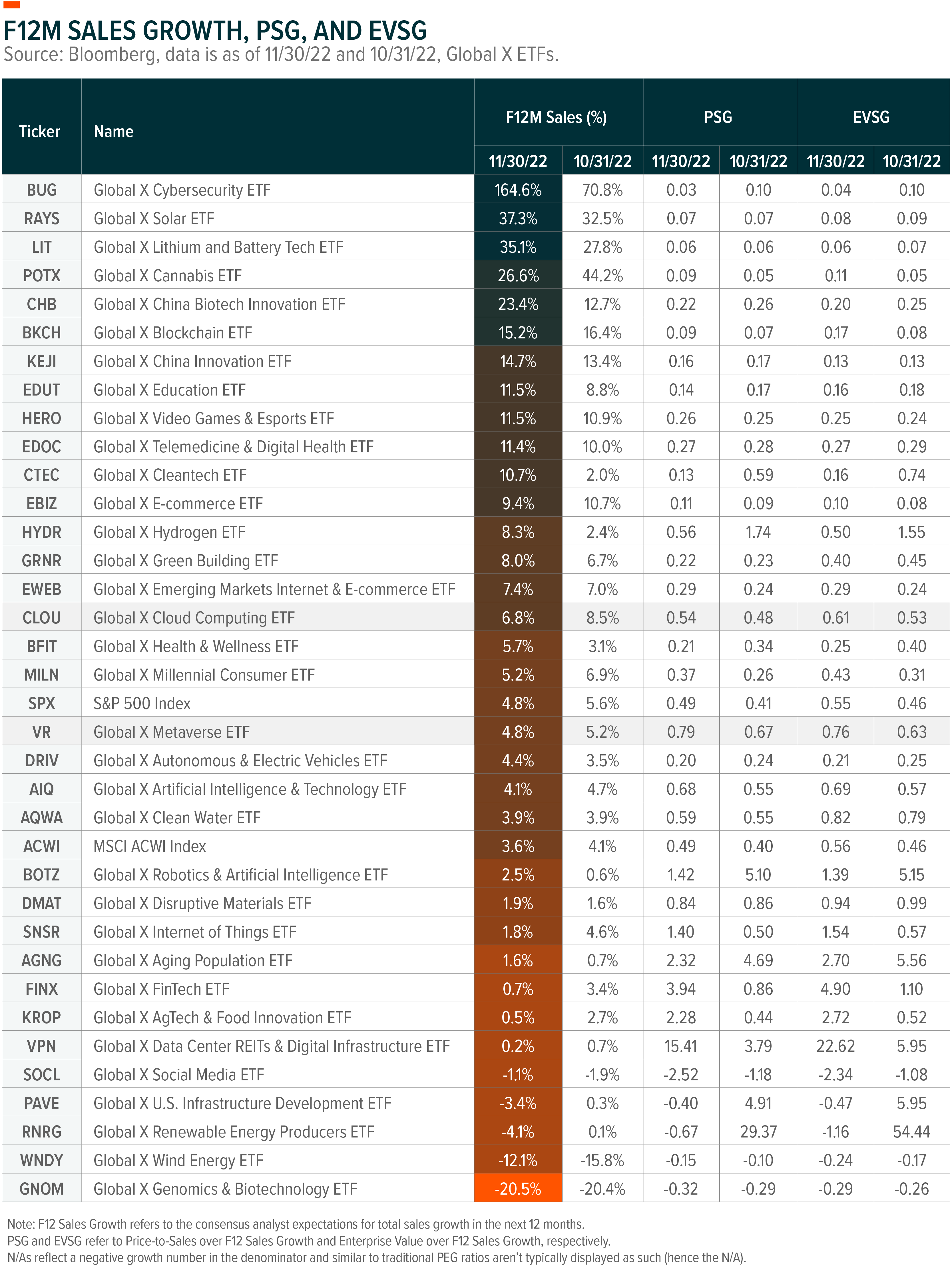 INTRODUCTION TO THEMATIC INVESTMENT COURSE – ELIGIBLE FOR CE CERTIFICATES
Global X has developed an interactive, self-paced introductory course to thematic investing designed to share the latest ideas and best practices for incorporating thematic investing into a portfolio.
This program has been accepted for 1.0 hour CE credit towards the CFP®CIMA®CIMC®CPWA® or RMA certifications. To receive credit, students must submit accurate and complete information on the requested forms, complete the entire course, and score 70% or more on the Introductory Thematic Investing quiz.
For Canadian Students: This program is verified by FP Canada and qualifies for 1 FP Canada-Approved CE Credit in the Product Knowledge category toward CFP® certification or QAFP™ certification. To receive credit, students must submit accurate and complete information (including job title) on the requested forms, complete the entire course, and score 70% or more on the Intro to Thematic Investing quiz.
Questions about obtaining CE credit can be sent to: [email protected]
KEEP UP TO DATE WITH THE LATEST RESEARCH FROM GLOBAL X
To learn more about the disruptive issues transforming our world, read the latest research from Global X, including:
ETF HOLDINGS AND PERFORMANCE:
Click on the links below to view individual ETF holdings and recent performance of the Global X Thematic Growth Suite, including information on the indices shown:
Interfering Technology: Artificial Intelligence and Technology ETF (AIQ), Robotics and Artificial Intelligence ETF (BOTZ), Cybersecurity ETF (BUG), Cloud Computing ETF (CLOU), Autonomous and Electric Vehicle ETF (DRIV), FinTech ETF ( FINX), Video Games and Esports ETF (HERO), Lithium and Battery Tech ETF (LIT), Internet of Things ETF (SNSR), Social Media ETF (SOCL), China Biotech Innovation ETF (CHB), Data Center REITs & Digital Infrastructure ETF (VPN), Emerging Markets Internet & E-Commerce ETF (EWEB), AgTech & Food Innovation ETF (KROP), Blockchain ETF (BKCH), Blockchain and Bitcoin Strategy ETF (BITS), Metaverse ETF (VR)
People and demographics: Cannabis ETF (POTX), Millennial Consumer ETF (MILN), Health & Wellness ETF (BFIT), E-Commerce ETF (EBIZ), Genomics & Biotechnology ETF (GNOM), Aging Population ETF (AGNG), Telemedicine & Digital Health ETF ( EDOC), Education ETF (EDUT)
Physical Environment: US Infrastructure Development ETF (PAVE), CleanTech ETF (CTEC), Renewable Energy Producers (RNRG), Clean Water ETF (AQWA), Hydrogen ETF (HYDR), Solar ETF (RAYS), Wind Energy ETF (WNDY), Disruptive Materials ETF (DMAT), Green Building ETF (GRNR)
Multi-Theme: Thematic Growth ETF (GXTG), China Innovation ETF (KEJI)