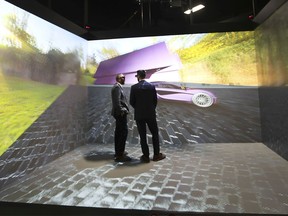 content of the article
Windsor's virtual world has tripled in size following Invest WindsorEssex's announcement on Wednesday that its automobility and innovation center has added two new digital tracks to its offerings.
content of the article
The new digital twins are Ottawa's Area XO, a physical route for autonomous and connected vehicle testing, and a replica of the Detroit-Windsor Tunnel crossing. The digital twin of the tunnel is the world's first international border crossing.
content of the article
The center already had a digital twin of the University of Michigan's Mcity test track.
"Area XO is the premier live test track for AVs," said Ed Dawson, the center's senior manager of automobility and innovation.
"We are building companions to various digital tracks to complement real test tracks. Each route has certain pieces of infrastructure that are different. There are also differences in each country they can test for."
content of the article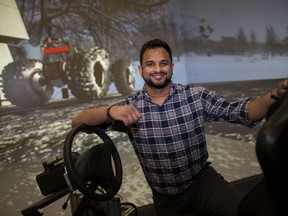 Dawson added that the tracks also allow companies to test their technology in a variety of virtual weather conditions throughout the year. That's something a physical track can't offer.
The biggest benefit of Windsor's Virtual Reality Cave, however, is on the companies' balance sheets.
"Physical testing is expensive and time-consuming," said Akash Charuvila, Engineering Lead for Virtual Reality and Optics at the Automobility Center.
"Before they go on a physical track, a company can test whether their technology is validated. We can be part of the value chain by starting with simulation and moving on to the test track."
The tunnel's digital twin also offers unique opportunities to solve things like getting a communication signal under the Detroit River and compensating for the switching of systems/signals when crossing the border while minimizing latency.
content of the article
"Equipment for communications needs to be installed in the tunnel and it's better to know that equipment needs to be moved three inches prior to installation," said Stephen MacKenzie, CEO of Invest WindsorEssex.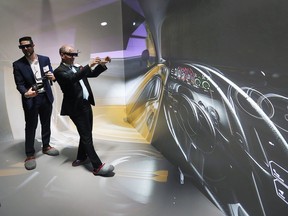 Windsor VR CAVE helps develop concept car Article author:

The automotive industry is dying to gain access to Windsor's virtual reality cave
MacKenzie added that the tracks also aim to generate economic benefits for the region. VR Cave's mandate is to attract 10 to 15 companies annually to use the facility.
"We've been at 13 companies since April and the program hasn't even officially launched," MacKenzie said.
In addition to the AV drive component of digital tracks, companies are showing increasing interest in vision system test technology and sensor package performance, Dawson said.
"Ottawa has a robust ecosystem in this (AV and communications) technology," said Dawson. "We're hoping to lure satellite offices to Windsor or make the things they need."
[email protected]
twitter.com/winstarwaddell