Artificial intelligence is currently being used in Edmonton as part of a research project to detect distracted driving.
On September 13, the University of Alberta launched this three-week research project to understand the prevalence of distracted drivers, particularly in Edmonton. The research team is led by Karim El-Basyouny, Professor in the Faculty of Engineering and Chair of Urban Traffic Safety Research at the University of Alberta. U of A research is done in partnership with Acusensus, the City of Edmonton and the Edmonton Police Service.
As of September 13, the technology has been stationed at its first location at the intersection of 79 Street and Argyll Road. According to El-Basyouny, it will be stationed there for about a week before moving to the next location, which is currently unknown. There will be three different locations in total, one for each week during this project.
El-Basyouny's research is supported by a seed grant enabling the use of Acusensus technology. Although the Edmonton Police Service is collaborating with this project, the data collection will be used solely for research purposes and not for traffic enforcement.
According to Tony Parrino, general manager of Acusensus North America, Edmonton is the first city in Canada to trial Acusensus technology.
"Data on distracted driving in Canada was a bit patchy, [and] We don't really understand how big the problem is… We're trying to figure out if there's a better way to understand how big the problem is [distracted driving] is," explained El-Basyouny.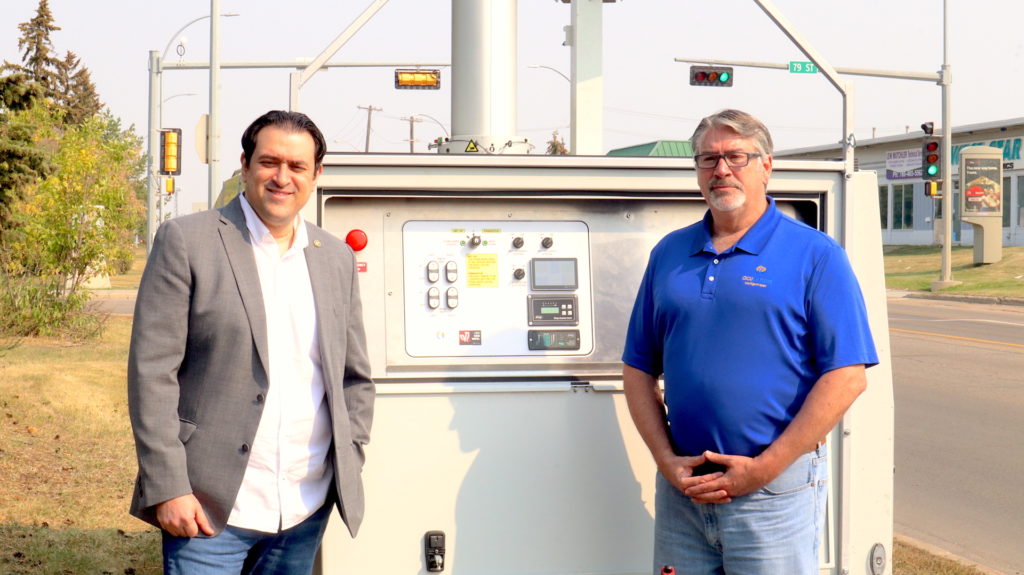 Acusensus AI technology is used to collect data
The technology used to determine the prevalence of distracted drivers is primarily AI. According to Parrino, the AI ​​went through "a series of training scenarios with millions of data points."
The system is radar based with many different sensors and four different cameras. Each camera captures something different; One captures a steep shot of the windshield, one camera is flat in the event of a phone-to-ear event, and the other two cameras are used for color context and license plate capture. The collected information is then passed on to the AI.
According to Parrino, even though the AI ​​has been trained for maximum accuracy, there is a possibility of false positives.
"It's very accurate, but there are false alarms… 100 percent of the images captured are reviewed by trained people [who determine if] The criteria for the U of A are met to determine that a distracted driving event has occurred and only those are counted," Parrino said.
The future use of this technology in Edmonton is unknown
Although Acusensus technology is being used for traffic enforcement in Australia, Parrino said it is not known if the technology will be used for traffic enforcement in Edmonton. To date, this research is used solely to see the prevalence of distracted drivers in Edmonton.
"I find [traffic enforcement] is an option available to us at [some] point in the future [however] it is not primarily the purpose of this study," said El-Basyouny.
In a statement sent out Sept. 13, Jessica Lamarre, the City of Edmonton's director of safe mobility, commented on the U of A's research project.
"This project offers the opportunity to gain a better understanding of the prevalence and safety implications of distracted driving on our roads through the creative use of new technologies together with our talented research partners at the University of Alberta."