As of October this year, the number of homeless New Yorkers sleeping in city shelters each night was 35% higher than 10 years ago. For mobile healthcare provider DocGo, COVID-19 was an opportunity to do something good for these people (and build a revenue stream at the same time).
Through a program with NYC Health + Hospitals, DocGo treated tens of thousands of vulnerable New Yorkers over 18 months on behalf of NYC. It began testing for COVID-19 in homeless shelters and operated more than 40 of its mobile units across the city, mostly in underserved neighborhoods. Service then moved on to medical consultations, immunizations, and community work engagements. "We do good by doing good," said Norman Rosenberg CFO in a December interview. Rosenberg, previously CFO of DocGo subsidiary Ambulnz Holdings, LLC, officially assumes the title of DocGo CFO on January 1st.
home visits
COVID-19 brought another positive thing for DocGo: as a potential accelerator of an emerging trend in medical service delivery – mobile health.
When COVID hit, people got used to the idea of ​​things being delivered to their homes. That just accelerated a trend that I believe was already emerging. – Norman Rosenberg, DocGo
Mobile health is not telemedicine, although this new model of last-mile healthcare may eliminate the need for trips to hospitals, doctor's offices, and emergency centers. DocGo provides mobile medical services and transportation to a patient's home or office, primarily for episodic care.
The company's proprietary platform technology platform handles the logistics for dispatching emergency medical technicians (EMTs), paramedics and nurses. Under the supervision of a remote doctor, they offer testing, vaccinations, blood work, IV hydration, wound care, mobile imaging, and remote patient monitoring.
The proprietary platform allocates resources based on a predictive needs analysis, and machine learning algorithms "predict reimbursement and help ensure collectibility."
"When COVID came along, people got used to the idea of ​​things being delivered to their homes. It just accelerated a trend that I believe was already emerging," Rosenberg said. Going to a hospital or doctor for some types of care — like a throat culture, for example — "just doesn't seem efficient and doesn't seem to make sense in this day and age."
An efficient provider
There is a mismatch within health care, what activities are performed and who performs those activities, Rosenberg said. Paramedics, paramedics and nurses cost a fraction of the cost of doctors.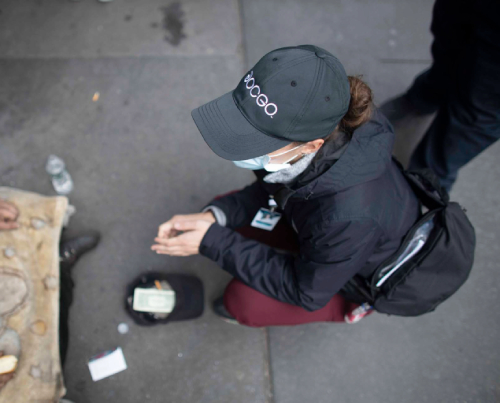 Rosenberg: "I love doctors. My brother is a doctor. But it just doesn't make sense – we have highly paid and highly skilled people doing trading-like services. … There is almost a built-in arbitrage."
Existing healthcare systems are not in competition with DocGo – Rosenberg sees in DocGo the gaps in care that hospitals and outpatient facilities can no longer provide efficiently. "Having an ambulance for a hospital is a huge pain point for them," Rosenberg said, "most of them don't want to do it alone. It's just another headache."
Focus finances
Launched in 2017 with $40 million in venture capital, DocGo went public through a special purpose vehicle (SPAC) in November 2021, raising $158 million in cash from the merger. A private public equity investment (PIPE) from Light Street Capital and Moore Strategic Ventures was part of the funding package. The company's stock is hovering around $6, better than many other SPAC alumni.
DocGo had a total of $179.4 million in cash and equivalents as of September 30. To strengthen the balance sheet, it added a $90 million line of credit with Citi on Nov. 2 that has not yet been drawn. The company is not heavily indebted, with $20.6 million in total debt, mostly lease liabilities.
Mobile healthcare is not a panacea – it requires a change in consumer behavior and in some ways challenges the entrenched model of US healthcare. To gain a foothold, DocGo needs a lot of financial runway.
Rosenberg spoke of three financial challenges.
1. Optimization working capital. DocGo has four categories of customers: hospitals, payers, municipalities and companies. Some of these customers are very slow in paying claims.
"I spend money on staff and materials and then get paid on a slightly longer cycle," Rosenberg said. "Fortunately we didn't have to turn around [work] Low.
"If it's a good project with a good margin and they're a reliable payer, I can handle a longer payment [cycle]. I'd rather have longer payment terms from a reliable customer than shorter payment terms from a customer I'm really losing my sleep on."
2. Manage operational costs. DocGo assumes a "healthy" annual increase in the average hourly wage of its employees. (The company has more than 2,000 employees.) Fuel costs are a big deal since the company uses a fleet of vehicles. DocGo tries to save money in other procurement areas – for example on laboratory tests and medical consumables. The procurement team is incentivized based on unit cost reductions. Each quarter, procurement personnel are given a goal to reduce the cost of a supply or service by a specified amount.
"We make sure we balance everyone's interests with some very granular KPIs," Rosenberg said. "It's not just about wishing we could cut costs, it's about having a game plan to do it."
3. Replacing COVID testing revenue. Many of DocGo's COVID testing contracts have expired. For example, revenue related to COVID testing accounted for about 35% of revenue in Q3 2021. In the third quarter of 2022, they accounted for a mid-single-digit percentage. The replacement revenue will be a mix of organic and mergers and acquisitions, Rosenberg said.
One market in which the company sees growth after the positive experience in New York is contracts with municipalities. The cheaper services are a selling point for local and state governments and for DocGo it is a direct pay relationship. "We are always willing to work with you [governments], so we can find innovative ways for them to pay us. We can do it in a way that is most cost effective for them," Rosenberg said.
Whenever we're going through chaotic times, I like to say to people, 'You didn't see anything!' – Rosenberg
So far, international business has only accounted for a small percentage of sales. DocGo has a few offices in the UK and Rosenberg sees rapid growth. Just this week, DocGo landed a UK deal to offer a "rapid case response service" to elderly patients. The goal is to "enable faster response to help elderly patients recover from falls without requiring a trip to the emergency department and establish clinical pathways to prevent future incidents," according to the company.
Nothing new
Rosenberg takes a philosophical view of disrupting medical care. He spent the early 2000s in the telecommunications industry (including a CFO position at IDT Telecom). This was a time of great upheaval, with the breakup of the incumbent telephone providers and the switch to open competition and revolutionary pricing models. Rosenberg said, "Whenever we go through chaotic times, I like to say to people, 'You didn't see anything!'"
The disruption has been around for decades, Rosenberg said, it's just taking on different forms now. "It helps to look back at other periods and in other industries and take the lessons that can be learned and apply them to the current environment."