EL PASO, TX, Dec. 09, 2022 (GLOBE NEWSWIRE) — The Success Through Technology Education (STTE) Foundation, New Mexico State University's Hunt Center for Entrepreneurship at Arrowhead, and WebXR technology provider Geenee AR have announced the launch of Unicorn Academy, the first-ever augmented reality (AR) education program focused on fostering entrepreneurship among young people.
Unicorn Academy is for students in grades 8 through 12 who are curious about entrepreneurship and want to develop the fundamental skills needed to start their own business. Accessible from any connected device, the course is led by a virtual teacher who educates students on the implications of starting a business using augmented reality.
View or download the Unicorn Academy textbook HERE
Launched from a physical workbook, Unicorn Academy includes complementary AR courses that immerse students in design thinking and business model canvases from leading brands such as Tesla, Nike, Instagram and TikTok. Throughout the program, students learn to create human-centric solutions in AR through a variety of assignments, and eventually have the opportunity to develop their own AR-based businesses and accompanying marketing content.
"We are excited to offer Geenee AR's cutting-edge technology to help us drive innovation in building future educational experiences. With the upcoming commercial release of smart glasses, the way we consume and learn information will change dramatically. A phygital textbook is one clear way to influence the future," says Joseph Sapien, Executive Director of STTE.
"Preparing the next generation of innovators to found startups starts with a shift in thinking. NMSU is excited to have the opportunity to support the development of a super-scalable platform aimed at growing the pipeline of students pursuing entrepreneurship," said Kathy Hansen, director and CEO of the NMSU Arrowhead Center.
The Unicorn Academy book experience offers several key benefits. Firstly, the protection of personal data is essential in the K12 education sector. Therefore, readers are not required to provide any information in order to access the educational experience. Additionally, the book has no walled gardens and is a fully "web-based interface" that offers a smooth user experience, removing the barrier of downloading an app to experience learning. Finally, statistics confirm that students retain 90% of material when learned through experience. Thus, readers are introduced to a hologram teacher who has the option to select English and Spanish.
Cory Grenier, CEO of Geenee AR, states, "The 3D Internet is at an intergenerational tipping point, a paradigm shift toward immersive 3D digital identity and self-expression. The most valuable tech companies out there are all developing AR-enabled glasses, a form factor that will transform the way we interact and transact online. AR software is essentially built on a foundation of artificial intelligence, machine learning, and 3D graphics. These cutting-edge realms, distilled into a powerful AR creation tool, logically align with STTE's mission Apply STEAM education to advance and accelerate the next generation to build the businesses of the future."
For more information, see https://sttefoundation.org/Unicorn-Academy/.
Contact information:
Joseph Sapien
Manager and Creator
[email protected]
(915) 240-5571
Related Images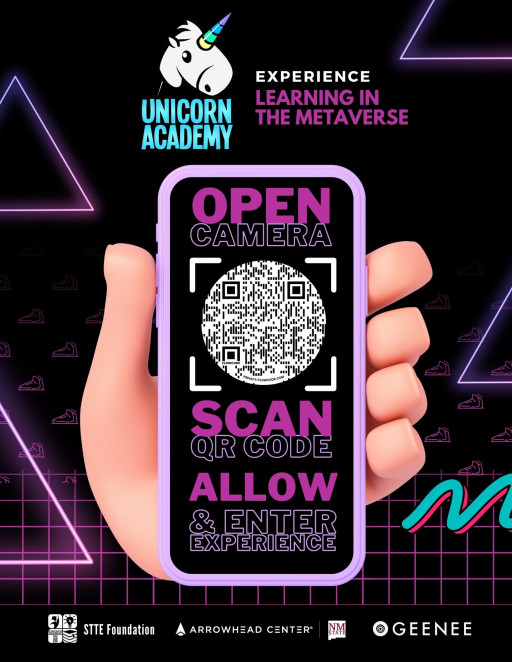 Image 1: QR code of the Unicorn Academy
QR code instructional image with instructions on how to enter the experience.
This content was distributed via Newswire.com's press release distribution service.