The COVID-19 pandemic and the shift to remote and hybrid work have significantly impacted the way work gets done.
Here are four HR trends that are likely to garner increasing attention as we enter 2023.
These HR trends include offices becoming more livable, HR adopting metaverses, a new challenge for remote work, and why quiet hiring could replace quiet giving up.
Offices try to compete with the home
The shift to hybrid working is causing organizations to rethink the office environment. They work with designers to create a more homelike environment with plants, sofas and seating to suit all tastes. The atmosphere could range from a cafe atmosphere to a kind of living room.
This workplace design trend began in the technology industry, which early embraced flexible work arrangements. But the pandemic and hybrid work have accelerated the HR trend across the board. Offices are being designed with softer color palettes and finishes to make people feel more comfortable and encourage employees to come into the office.
"That's what people have gotten used to over the two years of working from home," said Aimee Collins, senior principal of design Americas at Unispace, a commercial design and construction firm headquartered in Sydney.
The design approach is to create an office space that "feels more like someone's home," Collins said. This includes creating an environment that allows employees to work where they want – whether at a desk, at a table or outdoors – just as they do in their own homes.
Without a permanent desk, there isn't necessarily a permanent place for a family photo or personal belongings, but there is an alternative. Employees work in "neighborhoods," and in those areas employers will create dedicated spaces where people can add pictures of their children and pets, sometimes using a video display, Collins said.
Collins said the new office will include gathering input from managers and focus groups from employees. Adapting to a new office requires change management, including training staff on how to use it so "they embrace it".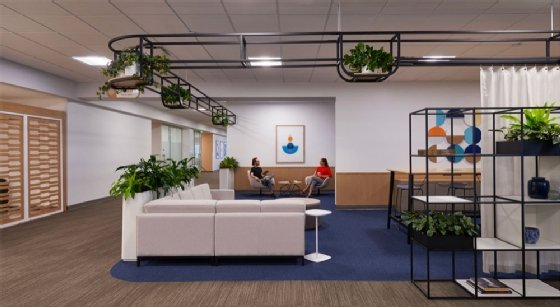 HR could be a Metaverse early adopter
The Metaverse, an immersive 3D virtual environment, is still more concept than reality. But in 2023, HR could become an early adopter and start testing. Employee onboarding and training provides one of the strongest use cases for metaverse adoption, according to professional services giant PwC HR.
In July, PwC released the results of a survey of 1,000 US business leaders who selected onboarding and training — by 42% — as their top business use. And 82% of respondents expect the Metaverse to be part of their business in three years, according to Emmanuelle Rivet, vice president of US technology, media and telecom and global technology leader at PwC.
The Metaverse has a lot of potential when it comes to onboarding, Rivet said. For example, a cohort of new hires could take a virtual course on company security policies. You could do the same thing in Zoom or Teams or a physical classroom, she said, but the experience will be better in the Metaverse.
In the Metaverse classroom, people are avatars. Despite that cartoonish look, there's a much stronger sense of presence in a fully virtual setting, and the level of attention is better, Rivet said.
In this virtual world, "you're very focused and effectively cut out the rest of the distractions around you," she said.
But there are other reasons companies could be early adopters of Metaverse technologies. When HR provides employees with virtual reality headsets for training purposes, they also train them on the technology, Rivet said.
Employees' experience with the metaverse could generate employee-led innovation on what's possible and how "they can use this type of technology for their products and services," she said.
"You can't ignore the metaverse," Rivet said.
Remote work faces challenges in 2023
Some CEOs — notably Tesla and Twitter CEO Elon Musk — are critical of remote work. In 2022, Musk mostly quit Tesla and tried to do the same on Twitter. Should a recession hit in 2023, other business leaders may feel empowered to follow suit.
According to Kate Lister, president of Global Workplace Analytics, a remote work research and advisory firm, there are two theories about what could happen in the event of a recession. The first is that employees may voluntarily return to the office to "be seen," and "leadership will take the opportunity to tighten the remote work line," she said.
"I have no doubt that without the skills shortage, companies would be far less receptive to continuing remote and hybrid work post-pandemic," Lister said.
The second theory is that a recession could also prompt companies to lower their real estate costs.
"As a recession hits and executives look for ways to cut costs, they will see largely vacant buildings as low-hanging fruit, and that will continue to normalize remote and hybrid work," Lister said.
Others believe workers with in-demand skills will continue to prevail.
"It's still a very talent-driven market," and that talent shows "a strong preference for remote," said Evan Hock, co-founder and vice president of products at MakeMyMove. This Indianapolis-based company connects remote workers with relocation deals.
Hock referred to a recent LinkedIn study that shows the high attractiveness of remote jobs.
LinkedIn reported that remote job postings on the site hit an all-time high in February 2022 and accounted for 20% of all US jobs posted, but by September that figure had fallen to 14%. However, remote job postings attracted 52% of all US applications.
"Remote work remains a high priority," Hock said.
"Silent cessation" replaces silent termination
The so-called silent resignations could miss opportunities for advancement and extensive tasks in 2023. But workers who don't quit quietly could benefit from "silent hiring."
Companies are slowing down their hiring efforts and finding it increasingly difficult to hire employees, but most are still working "with quite a talent shortage," said Emily Rose McRae, an analyst at Gartner. "How do you get those skills without necessarily adding full-time staff?"
In some cases, these companies will hire more contractors and gig workers, but another approach will be to increase internal mobility, McRae said.
While companies could support internal mobility on paper, they could still face resistance from managers wanting to hold on to their talent, she added.
Gartner sees silent hiring as the HR trend of 2023. It's the result of a real cultural shift around talent, with company-wide policies that allow organizations to move high performers into areas that generate growth and equip them for new roles." set". McRae said this includes creating more opportunities for upskilling and expanded assignments.
This silent hiring is a way to acquire skills without necessarily hiring full-time outside staff, she said.
Patrick Thibodeau covers HCM and ERP technologies for TechTarget Editorial. He has worked as a corporate IT reporter for more than two decades.