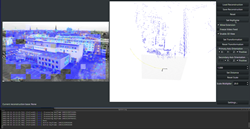 "What would previously have required a helicopter and the post-production of a Hollywood blockbuster can now be accomplished in real time with a single software solution," said David Dowling, Chief Revenue Officer at Pixotope.

OSLO, Norway (PRWEB)
October 19, 2022
Pixotope, the leading software platform for end-to-end real-time virtual production solutions, today announced Pixotope Tracking – Fly Edition (Pixotope Fly), a new camera tracking software solution that enables the creation and tracking of augmented reality elements with Drones and cable cameras greatly simplified. Unique markerless technology eliminates the complex setup and creative limitations imposed by marker tracking, enabling productions and live events to engage audiences with dynamic, real-time aerial graphics.
"We are incredibly proud of what we have achieved with Pixotope Fly," said David Dowling, Chief Revenue Officer at Pixotope. "It eliminates the resource-intensive setup required for existing drone tracking technology; It doesn't require any special sensor cameras, markers, or proprietary hardware to work, and it's deceptively easy to use. All you need is a drone or cable camera and the software to get started. What would previously have required a helicopter and Hollywood blockbuster-level post-production can now be achieved in real-time with a single software solution."
Pixotope Fly was previously tested by Silver Spoon Animation, a creative partner of Pixotope, in a major national live coverage of American stock car racing. In one instance, viewers were shown an animated graphic of the winning driver next to his car, surrounded by stunning real-time particle effects, as the Pixotope Fly-calibrated drone swept into a long shot to celebrate the win. Additionally, Silver Spoon delivered a gravity-defying RV stunt jump across the track as an AR ad.
"Our client wanted something viewers had never seen before; but to deliver a unique AR graphics package, we needed a unique technology solution," says Dan Pack, Managing Director at Silver Spoon Animation. "Thanks to Pixotope Fly's software-based TTL tracking technology, we were able to go beyond what was previously possible in real time and achieve exceptional live effects for the client."
Optimized technology increases creativity and reduces risk

Pixotope Fly ushers in a new era of virtual production, with key benefits such as:

Streamlined setup and operation: Marker-based tracking systems require a tremendous investment in terms of resources and preparation of the shooting environment; Someone has to physically and strategically place markers on the ground. With Pixotope Fly, this process is eliminated thanks to its software-based markerless TTL technology, which reduces the time and resources required for commissioning.

Unbound Creativity: Pixotope Fly allows producers to move freely through the sky without worrying about losing sight of markers, which is common in live environments due to changing light, weather and other unplanned disturbances. Anywhere a drone can be flown, AR can be added. The software does all the work, no sensor camera is required.

Reduced Risk for Live Productions: Marker-based systems require producers to keep drones in a very precise range. During a live broadcast, if something obscures the markings on the ground, the whole illusion collapses and the drone's tracking abilities are gone. With Pixotope Fly, the software continuously updates its reference point, so users are not at the mercy of the markers in a difficult-to-control environment.
"Besides the creative and cost benefits, Pixotpe Fly offers users less risk of failure during live broadcasts. Because there are no significant physical markers, producers don't have to worry about a catastrophic live tracking failure because a marker somehow got obscured," concludes Dowling.
About Pixotope Fly A markerless TTL (Through the Lens) tracking solution, Pixotope Fly uses computer vision technology to utilize the video from the onboard camera to find anchor points in the live natural environment such as rocks, trees, buildings, etc identify lock and track 3D graphics. The software uses these natural anchor points to generate a virtual point cloud of digital tracking markers that react and adapt to changes in the environment. This means producers can add exciting AR graphics anywhere the drone can film, indoors or outdoors, for more creative freedom and a more dynamic viewing experience.
Availability of Pixotope Fly Pixotope Fly is available immediately to all existing Pixotope customers. For more information, see https://www.pixotope.com/product/pixotope-camera-tracking.
About the devotion of Pixotope. determination. Trust. Pixotope is at the forefront of democratizing virtual production, equipping content creators with accessible solutions for immersive storytelling that pushes boundaries.
Proven in the world's most demanding live productions, Pixotope offers media content owners and producers a reliable and sustainable virtual production platform on which to build their media business.
Pixotope uniquely enables media creators to tell stories with the visual impact of high-end feature films combined with the connected and scalable nature of online content and the immersive and social experience of video games.
With 24/7 global operations and a direct presence on four continents, Pixotope Technologies' mission is to promote accessibility, usability and customer success in virtual production for all media creators.
Share the article on social media or via email: