With beta versions of macOS Ventura 13.1, iOS 16.2 and iPadOS 16.2 being made available to developers today, Apple has introduced the first version of the Freeform app, which was first presented at the Worldwide Developers Conference.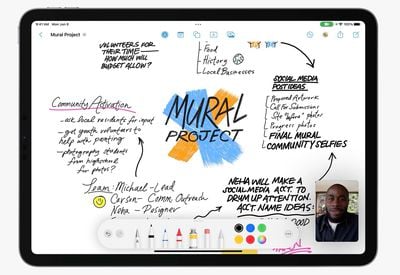 Freeform is a digital canvas app that allows iPhone, iPad, and Mac users to collaborate in real time. Multiple people can contribute images, notes, scribbles, documents, web links, PDFs, and more, with added content visible to all.
Apple's Freeform app is designed to work with the Apple Pencil on the "iPad" and can be used with FaceTime for visual feedback between Freeform participants.
Popular Stories
iOS 16.1 for iPhone launches Monday with these 8 new features
As expected, Apple today confirmed in a press release that iOS 16.1 will be released on Monday, October 24, alongside iPadOS 16 and macOS Ventura. iOS 16.1 includes at least eight new features for iPhone users, such as support for iCloud Shared Photo Library and Live Activity in third-party apps on the App Store, as well as several bug fixes. Below we've rounded up everything new in iOS 16.1…
Mark your calendar: iOS 16.1 release, new iPad Pro launch, and more coming soon
The next two weeks will be quite busy for Apple as multiple new product launches, software releases and more are expected during this time. We've rounded up five important dates for Apple below so you can mark your calendar accordingly. Important dates to remember: Monday, October 24th: Apple has confirmed that iOS 16.1, iPadOS 16.1 and macOS Ventura will be released on October 24th and it is…
New MacBook Pro and Mac Mini with M2 Pro chips are expected to be released in November
With new iPad Pro, iPad and Apple TV models announced this week, attention is now turning to the Mac. Rumors suggest that Apple plans to release new high-end MacBook Pro and Mac Mini models with M2-series chips later this year. In his newsletter this week, Bloomberg's Mark Gurman said that the first version of macOS Ventura, launching Monday, October 24, will add support for…
Headlines: New iPad Pro, iPad, Apple TV and more announced
Largely as expected, this week we've seen a slew of Apple product updates via press release featuring the iPad Pro, iPad and Apple TV. All three products can be ordered now and will be launched in the next few weeks. We've also received official confirmation of macOS Ventura and iPadOS 16 release dates, while we're still awaiting some Mac-related updates before the end…
Apple is now selling the Anker 3-in-1 MagSafe Cube, Twelve South 5-Foot iPad Stand, and more
Apple today added several new accessories to its online store, introducing popular products from brands like Anker, Mophie and Twelve South. The new Anker 3-in-1 Cube with MagSafe is a MagSafe-certified charging accessory that can charge iPhone, Apple Watch, and AirPods simultaneously. Priced at $150, the Anker Cube is available now in Apple retail stores, and it should be available soon…
Apple is announcing more ads in the App Store starting next week
In an email to developers this week, Apple announced that starting Tuesday, October 25, app-related ads will appear on the main Today tab of the App Store and in a "You May Also Like" section at the bottom of the individual app lists will appear countries other than China. All ads in the App Store have a blue background and an "Ads" icon. "With a Today tab ad, your app can be prominently displayed on…