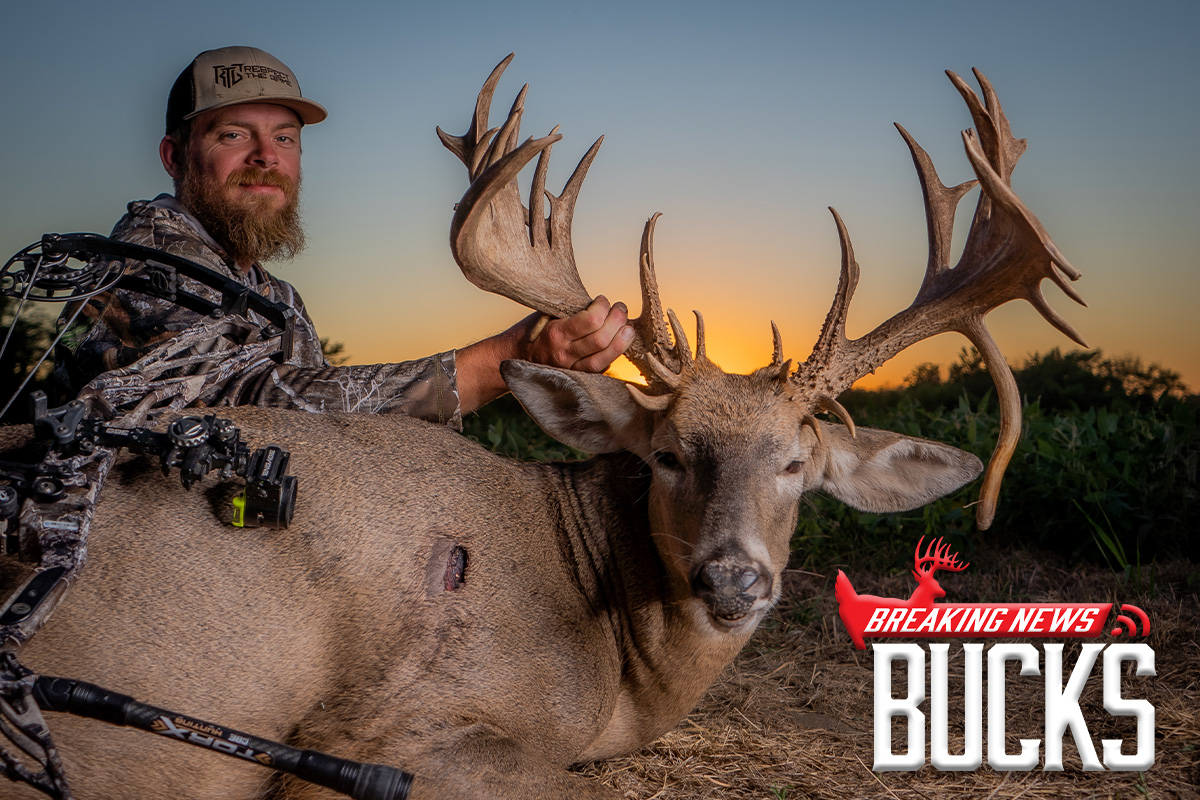 October 17, 2022
By Cameron Coble
For five years in Kansas City, Missouri, bowhunter Josh Heuser kept a special eye on a special buck – a whitetail deer who is ultimately destined to become one of the best bowhunters of all time in Show Me State. Josh first saw the buck when he was 1 1/2 years old and every year he watched the giant grow bigger. In 2021, the buck was ripe, but Josh didn't consider it a target.
"By this point, I had been watching the deer for a long time, and he was definitely a Sagittarius," recalls Josh. "But this year his frame was broken on one side, so he was off limits."
"Louis," as Josh called the deer, survived the 2021 season and returned in the summer of 2022. It was clear early that summer that Louis was about to explode in size and become a world-class atypical. So Josh made scouting for the money a real priority. "Me and my buddy saw him in person one night this summer," Josh recalls. "We set up some cameras there. My family and I drove there every night to look for him and we watched him for 47 days straight."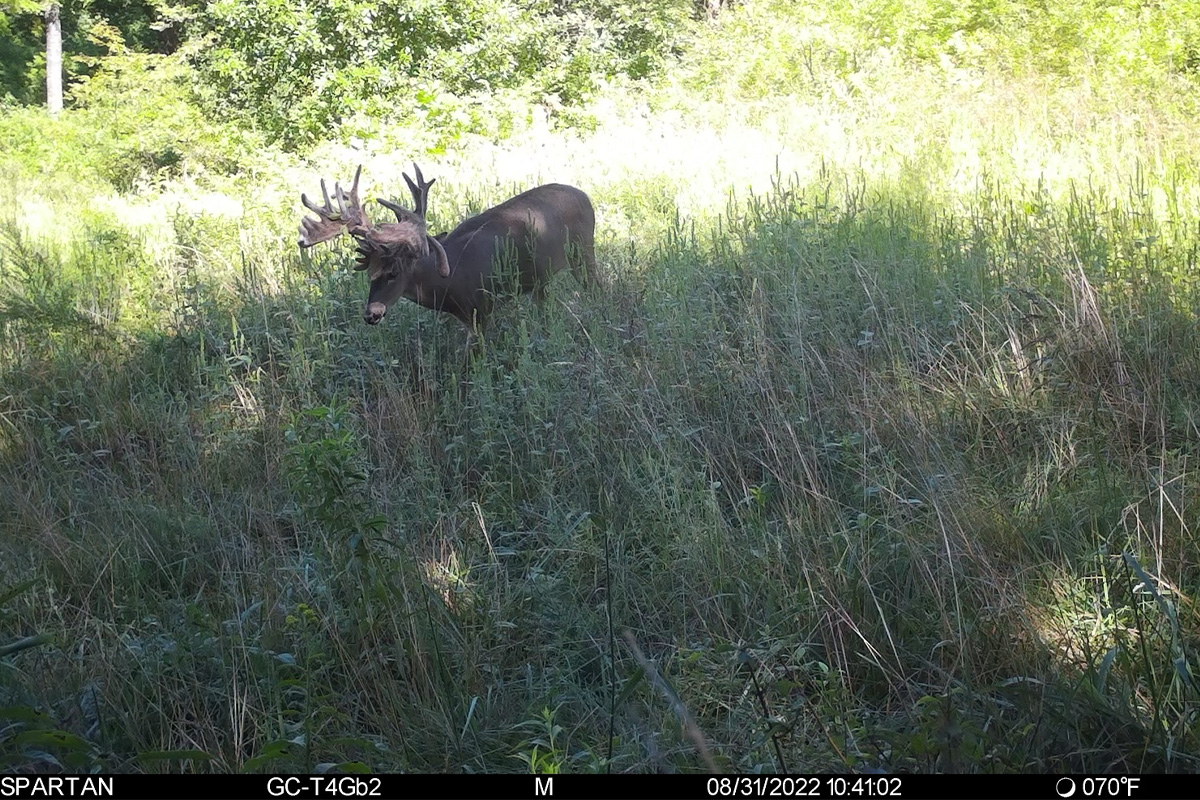 It's amazing how often the colossal buck would visit Josh's hunting grounds in daylight. The fact that the buck was so visible gave the bow hunter hope that he would have a shot at the one-of-a-kind trophy. Archery season in Missouri starts in mid-September and Josh hunted a few times early in the season but had no luck. Josh's cell phone cameras provided consistent information that the buck was moving through a thicket on the property.
"I was planning to hunt on September 27 if I could get free," says Josh. "The buck was on the game cam that day while I was at work, so I knew there was at least a chance he would still be in the area that afternoon. The problem was that I was at work. I'm a union worker and our concrete truck was late. So my boss didn't let me go sooner to go after him. Even my boss could tell I was in a bad mood that day!"
After finally getting off work, Josh sped to his seat and arrived at the property at 6:15 p.m. He had prepared a stand fully ready for the hunt, so he sprinted straight there. However, an unfortunate surprise awaited him. "I couldn't find my booth," says Josh. "Someone stole it. I had no choice but to find a tree to climb for the evening hunt. I sat on a hackberry with a branch I could stand on and hunt at about 12 feet." Josh broke branches until he had three holes to shoot through and he made that branch his home for the evening. It wasn't long before Josh saw the uncharacteristic giant out at the CRP.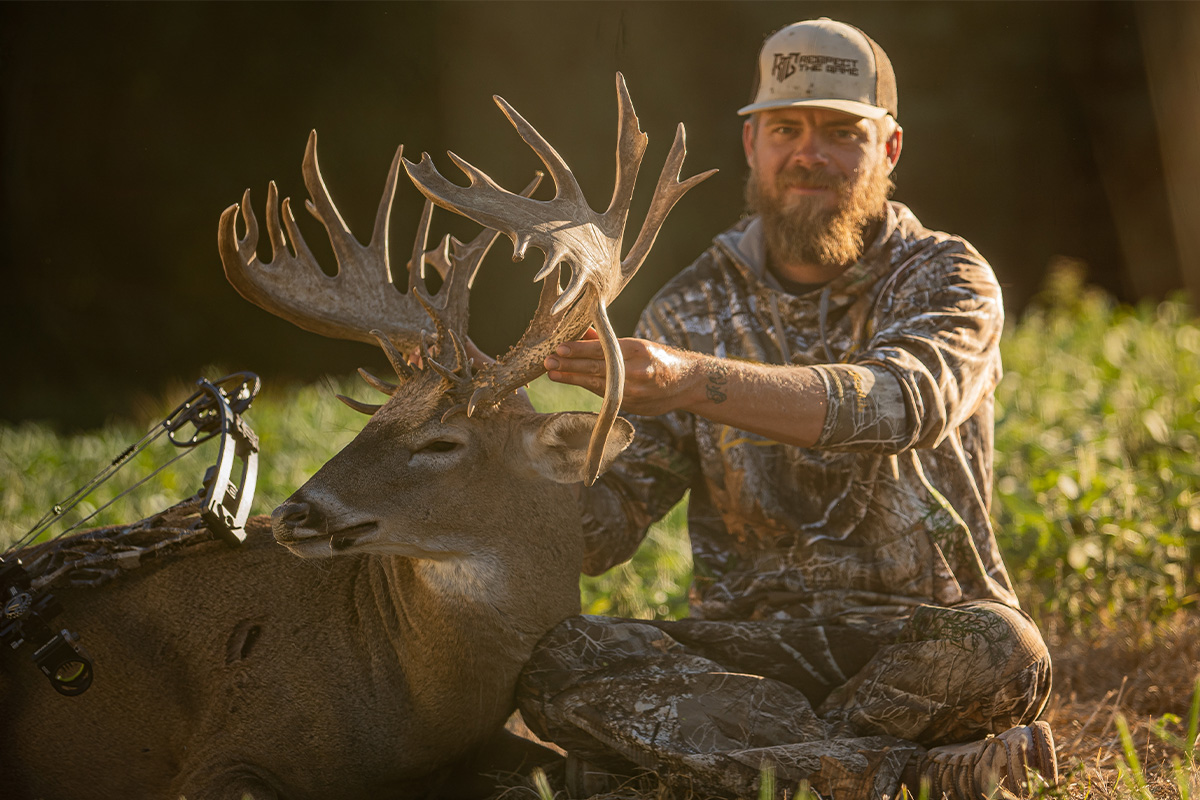 "I saw Louis about 200 meters away," says Josh. "I saw him coming towards me in the CRP but the wind was totally wrong. When he got about 100 meters, he stopped, turned and walked away. I thought it was over because he definitely got my scent. I looked up to heaven and prayed, 'Please, God. Make that happen.'"
As soon as Josh finished his prayer, Louis turned and walked straight towards Josh as if he didn't care. As Louis closed the distance, Josh prepared for a shot. When the monster buck reached 52 yards, he stopped perfectly on the broadside. "I held up my 40-yard mark a little and shot," says Josh. "On impact, he collapsed because the arrow hit him forward and high in the shoulder. I quickly followed up with a second shot to make sure he didn't get it anyway."
Josh called his wife and a few friends to break them the news and he didn't even approach Louis until everyone came to help. For Josh, it was a bittersweet moment of celebration and overwhelming emotion after several years of hunting the incredible animal. "I climbed down from the tree and cried all by myself," Josh recalls.
---
---
Josh sat in the truck for about an hour repeating what just happened and when his friend showed up they all went to Louis and stood there in silence staring at him. Josh says the moment was surreal.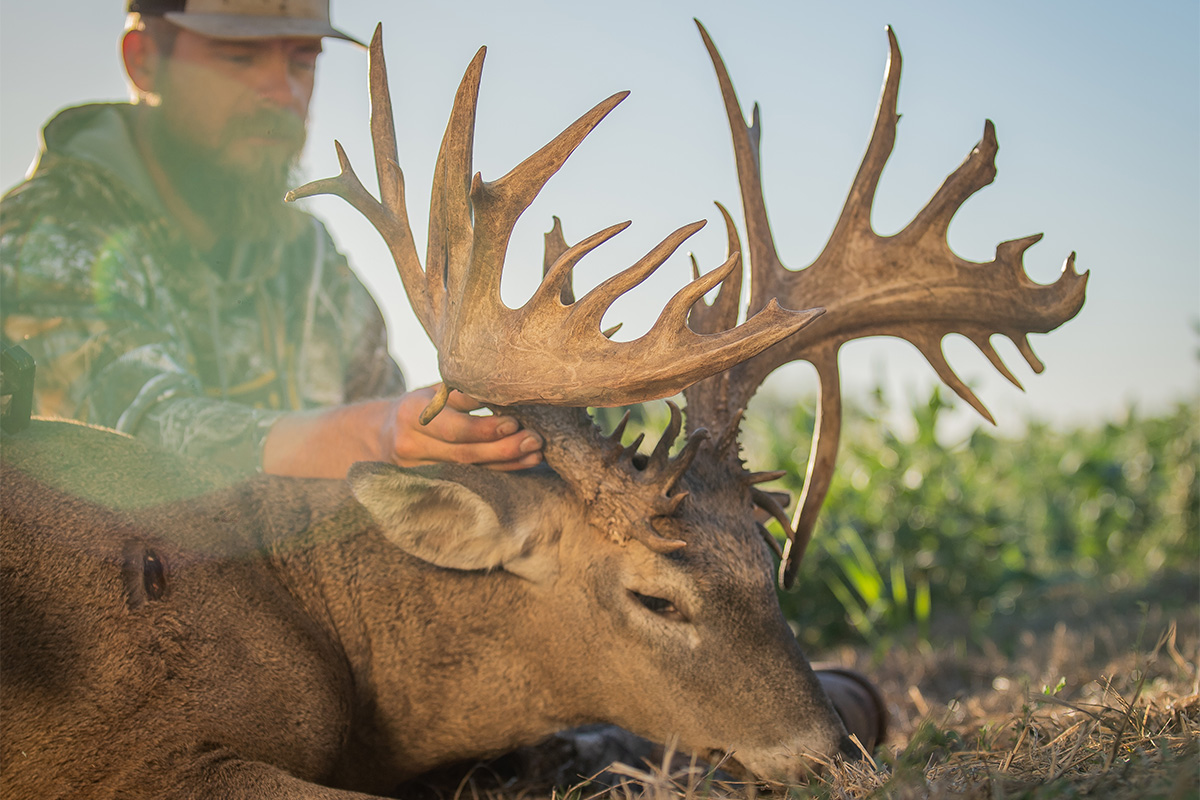 It was only a few days before news of Josh's trophy spread like wildfire online and on social media. Although Josh has not given any formal interviews to the media to date, the hunter's photos have been shared by hundreds of deer hunting sites while speculation continues as to the buck's potential score and overall ranking among Missouri archer bucks.
Shortly after Josh harvested the buck, North American Whitetail employee and Boone & Crockett Certified Measurer Cameron Coble arrived on site to assess the antlers as green. As the B&C record book requires a 60 day drying period to allow for antler shrinkage, this judging session was unofficial and does not reflect a final judging. However, it was the first time the rack has been taped in accordance with official B&C rules and regulations – and this is the first time the score has been shared anywhere online or on social media.
The preliminary rating shows that Josh's buck has a 36 point rating, with a gross "green" rating of 263 2/8 and a net rating of 254 3/8. The rack alone contains an amazing 79 1/8 inches of abnormal points. The right and left main beams measure 25 6/8 and 23 3/8 inches respectively. Most impressive, however, are the amazing bulk measurements, all of which are over 5 inches. The largest circumference measurements are 7 2/8 and 6 0/8 inches.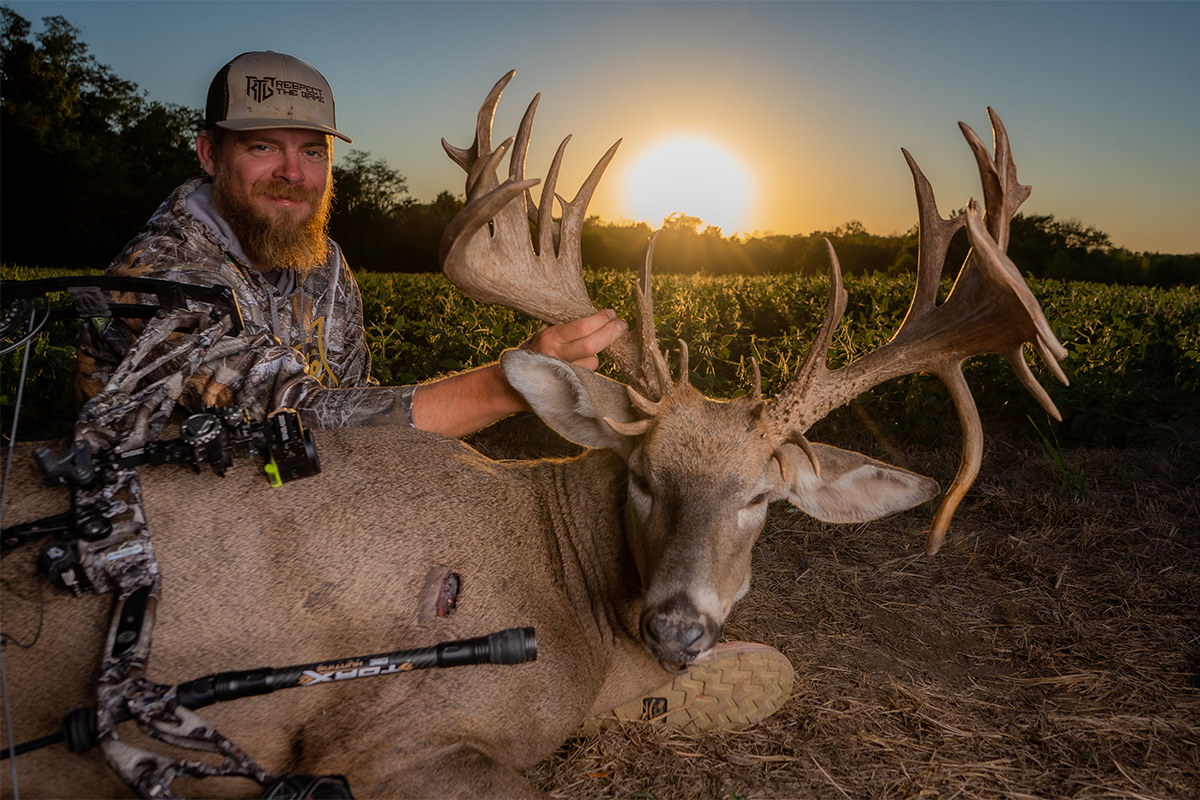 This provisional "green" score provisionally puts Louis 4th all-time in Missouri archery, which is not typical. Currently, Randy Simonitch's 269 7/8 net from Pike County (taken in 2000) ranks #1, followed by Jake Dierking's 267 net and Sean Barry's 260 1/8 net. We won't know for sure where Josh's massive dollar falls in this lineup of Show-Me State behemoths until the 60-day dry season ends and the rack is eligible for official scoring.
Until then, keep an eye out for the full story of Josh's epic hunt in the December/January issue of NAW Magazine. And stay tuned online and on social media for more updates on this incredible whitetail.