"We know that buying local has a multiplying effect on the local economy and the money stays local."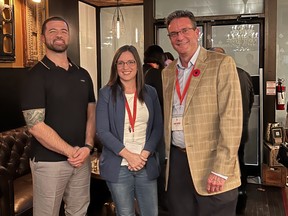 content of the article
The makers of a new shopping app were in Sudbury last week to celebrate a growing market for their technology, which aims to help both consumers and local retailers.
content of the article
"Imagine you're on Amazon and you've found the product you want," said Mark Sherry, President of One Red Maple. "Just before you pay, we show you the exact same product in your local market, and then we can direct you to buy it from that local store instead of Amazon or another company."
Often, he said, a small, independent business can even match or beat the price of an online giant. "You'd be amazed how often the local shopkeeper's price is equal or better," he said. "I think a company like Amazon pads their shipping costs in the prices."
Sherry said he launched One Red Maple in his hometown of North Bay last year, although its availability as a mobile app and expansion to Sudbury are more recent.
content of the article
"We have an extension that works on every browser that we launched last December," he said. "But then we stopped because we wanted to make sure we had an app that you could download to your phone. So we actually launched it in North Bay this August and thought the next logical location would be Sudbury as it's a northern city that we're very close to."
He said about 10 percent of North Bay residents have downloaded the app at this point, and virtually all of his businesses will now be included in One Red Maple's service at no cost to buyers or retailers.
"Eventually we're going to make money from the business, but there are different ways we can do that," Sherry said. "Right now it's free and it always will be free — a retailer might just pay a little bit in the future for different levels of service that we develop."
content of the article
However, consumers are never asked to pay for the app, he said, and "in many cases it saves them time and money."
Plans for the future include allowing local businesses to compete live – when someone is shopping online – with a larger retailer.
"Let's say you're looking at a Nike shoe on Amazon or the Nike website," said Mike Savatovsky, vice president of community and growth at One Red Maple. "We will refer to our database and give you that exact shoe at a locally owned store. At that moment when we are integrated with their point of sale system or e-commerce background, (the local business) should be able to adjust the price in real-time to match or match the displayed price to surpass."
Sherry said the idea of ​​One Red Maple came to him before the pandemic made online shopping even more common and was driven by a desire to give local businesses more of a fighting chance against the bigger players.
content of the article
"I wanted to level the playing field," he said, noting that the top 10 retailers control about 66 percent of the market. "My question was, how can we fight this? And so we thought what if we could take their strengths – their inventory systems, their product information – and use that to increase traffic on site."
He said the technology took a year to develop and he still wants to refine and improve it, but "we think we now have a useful product."
Both he and Savatovsky view One Red Maple as both a "social movement" and a technical tool or product.
"The company's vision is to strengthen the local economy and make it sustainable in the long term," said Savatovsky. "As a social enterprise, bringing innovation and entrepreneurship to communities, that's really the mission. We see ourselves as part of the shop local movement with a tool that can amplify that movement."
content of the article
As more people start using the app, "we think it could have a significant impact on the local community," Sherry said. "We know that buying local has a multiplier effect on the local economy and the money stays local. There's always this expression that Amazon doesn't endorse your local hockey team; it's the local retailers that do that."
Businesses in the North have embraced the idea enthusiastically, he said. The challenge now is to get the word out and gain more consumer acceptance.
"If that happens, we can transform every city across Canada," Sherry said.
At this point, the company hasn't seen a backlash from the retail giants, but it reckons it could at some point.
"Right now we're probably too small for them to pay attention to, but I'm sure we'll be on their radar sooner or later," he said.
content of the article
One Red Maple hopes to expand across the country and potentially beyond. "Our plan is to move across North America as quickly as possible," said Sherry. "We're starting with Canada and going from there."
Meanwhile, the company was excited to launch its Sudbury presence in the Alibi Room with representatives from Downtown BIA, Greater Sudbury Chamber Commerce, Northern Angels Investors Group and local retailers.
"We hope that Sudbury will adopt our product and we can bring more business to the shopkeepers in your city and area," said Sherry.
Download the One Red Maple app below oneredmaple.com.