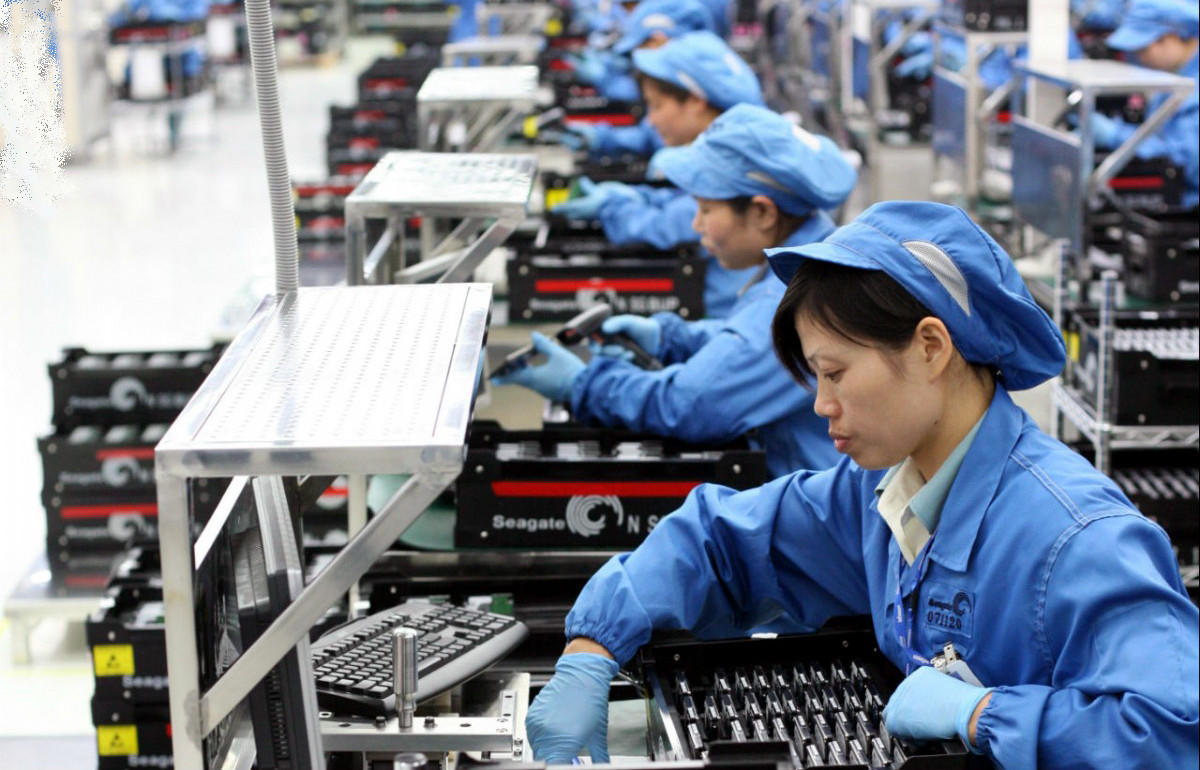 At a meeting between the prime minister and foreign-invested companies (FIEs) on September 17, many foreign companies presented their plans for research centers. Tech giant Samsung has plans for its research center in Hanoi.
Panasonic Vietnam's Marukawa said that after 50 years in the Vietnamese market, the company has expanded its investments by establishing an R&D and manufacturing center of IAQ (indoor air quality) equipment for the Asian market in Binh Duong; and set up a research and development center for intelligent washing machines and refrigerators in Hung Yen.
"We also expanded the IoT (Internet of Things) R&D center in Hanoi to develop products using IoT technologies and AI, intelligent digital factory solutions and other software products using AI," he said.
With $200 million worth of products manufactured in Vietnam in recent years, Boeing Country Director Vietnam Micheal Vu Nguyen sees great potential for growth in Vietnam.
"We organized the first Boeing Vietnam Aerospace Industry Forum last August, which had more than 200 participants, including potential suppliers and major suppliers from Japan, South Korea and Malaysia, as well as Vietnamese and US government agencies, as well as Vietnamese aerospace companies and universities.
Boeing encourages major suppliers to make additional investments or new investments in Vietnam and work with Vietnamese suppliers to create a sufficient, effective and flexible supply chain to provide customers with the highest quality products and services," he said.
Meanwhile, Rafael Frankel, CEO of Meta Asia Pacific, said Meta is joining forces with MIC to seek further actions in support of the national digital economy strategy that promotes digital citizenship, digital government and digital society.
He posited a future when Vietnam leads the region in green economy and technology, creating millions of new jobs.
"Imagine a future Vietnam where Vietnam-made technologies are scattered across Southeast Asia, providing jobs for millions of Vietnamese and protecting the environment for generations to come. Imagine a Vietnam with many software engineers who not only develop software for international leading technology companies, but also own leading technology companies," said Frankel.
"Let's imagine Vietnam taking the lead in the metaverse, which is virtual reality and augmented reality devices. This allows a surgeon in HCM City to teach the next generation surgeon in Hue without having to leave his office. The future is within reach for Vietnam," he said.
challenges
Dell Technologies' Erin Ennis said the company's experience with similar capital equipment over the past 30 years shows that Dell's projects in Vietnam encourage and contribute significantly to the development of local electronics, engineering and packaging.
She said Vietnam would play an important role in diversifying Dell Technologies' supply chain.
Tran Sy Thanh, Mayor of Hanoi, said at a recent conference to review Resolution 54 on Red River Delta development that Vietnam may attract projects that make the "body" of high-tech products, but still not can create the "soul" with high added value and high technology such as semiconductor chips.
Hanoi leaders said some major South Korean companies have shown interest in the area. However, large multinationals want support policies when making huge investments of $5 billion to $10 billion.
Amid the implementation of the global minimum tax, the deal that limits investment incentives for foreign corporations to ensure corporate taxes must be at least 15 percent, attracting high-quality foreign direct investment will face challenges as the government would have to weigh non-fiscal support measures for these groups.
Meanwhile, there is still a lack of high-skilled workers to realize the plan to become a destination for high-tech content projects.
A Bosch representative recommended that the government continue its efforts to improve vocational training. He said Bosch is ready to prepare Vietnam's workforce for the opportunities in the age of industrial and digital transformation 4.0.
Luong Bang