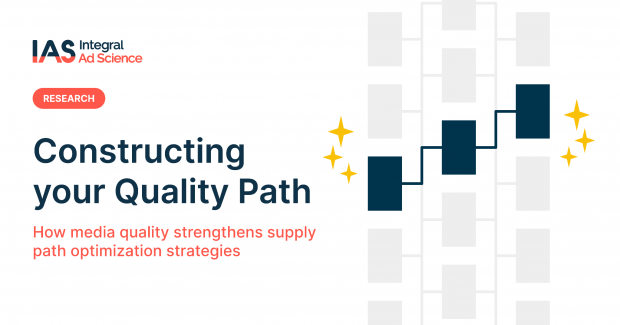 Integral Advertising Sciencea global leader in digital media quality, today (17 November 2022) released its latest research Building your quality path. The report reveals how media professionals are using Supply Path Optimization (SPO) in their digital marketing strategies and how they anticipate media quality to impact the future of SPO, making Quality Path Optimization (QPO) even more relevant , at most for the purchase of high-quality inventory efficient cost.
"Advertisers are pushing for more transparency into their programmatic purchases and want to ensure they are getting quality inventory with their ad spend," said Yannis Dosios, Chief Commercial Officer, IAS. "Expanding access to programmatic has resulted in the same ad inventory being served through multiple paths, resulting in increased complexity for advertisers. This is where Quality Path Optimization (QPO) comes in."
Programmatic advertising is growing exponentially – but the buying experience is becoming increasingly complex. IAS research found that industry experts cite media quality threats as the top challenge in programmatic advertising, with increased brand risk, ad fraud and lack of transparency topping the list. With media professionals under pressure to maximize their advertising spend and impact, it has become crucial to put SPO and media quality at the forefront of digital advertising strategies.
IAS surveyed digital media professionals from brands, media agencies and creative agencies.
Media experts know the importance of introducing media quality into path optimization strategies
93% of media professionals believe the quality of spend by supply-side platform (SSP) is important to assess supply path performance
91% of media professionals believe qCPM is important for evaluating delivery path performance
53% of media professionals believe it is important to know how much ad spend is on low-quality media
Visibility of media quality and cost makes it easier to understand SSP performance and path optimization decisions
69% of media professionals consider quality issues when making path optimization decisions
53% of media professionals agree that adding media quality to cost metrics makes a more understandable statement
The addition of quality metrics increased media professionals' confidence in path optimization decisions by 12 percentage points
Industry partners can help increase SPO adoption through centralized data, training, and insight automation
53% of media professionals would benefit from third-party platforms that centralize DSP data exchange
52% of media professionals would benefit from more guidance on how to interpret key performance indicators
49% of media professionals would benefit from more automation of leveraging insights through segments/optimization prior to bidding