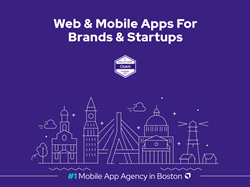 We see many Boston startups and even corporations rethinking teams in a new era of work

DANVERS, Mass. (PRWEB)
09/14/2022
Boston-based mobile app development agency NineTwoThree Venture Studio was named the #1 mobile agency in the Boston area by independent review site Clutch. Boston's growing and highly competitive startup community – to which NineTwoThree credits its continued growth – underscores the prestige of any agency recognized by Clutch.
Entrepreneur first, the growth mindset of NineTwoThree's founders drives the rapid scaling of client and portfolio companies
NineTwoThree was founded in 2011 by Andrew Amann and Pavel Kirillov. The startup studio is named for the many hours they put into founding their own Boston-based startup Inigo, which was acquired by a Canadian startup in 2017. Last month, NineTwoThree was named one of the Fastest Growing Companies in America by the Inc. 5000 for the second year running. The agency has grown to a global team of over 62 people and continues to work with clients in the Boston area such as Dorel, Altar Live, Pebble Finance, DOTS and Suffolk Construction.
"NineTwoThree has a very entrepreneurial spirit," said Stephanie Leathe, co-founder of Altar Live, a video conferencing and live streaming platform for faith communities based in Danvers, MA. "We are very synergistic. It's basically like having doubled the size of my own company by having NineTwoThree on board."
Massachusetts ranks among top 3 US states for VC investments, growing innovation ecosystem
The Boston startup scene is currently experiencing incredible growth. Massachusetts currently ranks third in the country for venture capital investments, behind California and New York. The average VC deal size for a late-stage startup was $54.8 million last year, up from $35.4 million in 2020. Early-stage startups are also seeing growth, with the average Deal size increases from $26.3 million to $38.5 million. Boston also remains a top destination for conferences and opportunities for growth-oriented leaders, most recently again as the city that will host HubSpot's annual INBOUND 2022 event.
NineTwoThree credits its success in the Boston market to its experience in founding 14 internally funded startups and its ability to assemble development teams unique to its clients' needs. With a global development team in the backyard of Boston, NineTwoThree is able to provide businesses with a complete product team for experienced brands looking to scale their mobile or web product.
"Thanks to them, our development time has also been reduced. They have maintained their development team over the years so the group is cohesive and works well together," said Gregory Tulumbas, Director of Consumer Engineering at DOTS Technology Corp. based in Natick, MA. "We also appreciate that they pick teammates in and out when their skills are needed, so we're getting a whole team for half the price."
"We're seeing a lot of Boston startups and even corporations rethinking teams in a new era of work," said Andrew Amann, CEO and co-founder of NineTwoThree. "Companies don't want or need to hire an entire development team for their mobile app. They instead choose to partner with an established team with experience in mobile development and building a business."
About NineTwoThree Venture Studio

Since launching in 2012, NineTwoThree Venture Studio has helped launch numerous software products and systems for clients and emerging businesses, and was named to the Inc 5000 list of America's Fastest Growing Private Companies for two years. The studio builds custom products for funded startups and tech brands. A startup studio that's learned what works by building 50 client apps and 14 startups worth up to $1 billion, NineTwoThree works from a proven playbook to build client apps efficiently and affordably. The studio is actively expanding its presence in industrial, financial, healthcare, last-mile delivery, IoT, e-commerce, wellness and other verticals, developing products for both the world's biggest brands and fast-growing startups. Learn more at https://www.ninetwothree.co/ and follow the brand on LinkedIn, TwitterInstagram and Facebook.
Share the article on social media or via email: