PDS Biotech (NASDAQ:PDSB) uses its Versammune platform in combination with tumor-specific proteins or antigens to develop targeted immunotherapies for oncology. I treated it in September 2021. It has a pre-clinical infectious disease program that we will ignore today. The pipeline looks like this: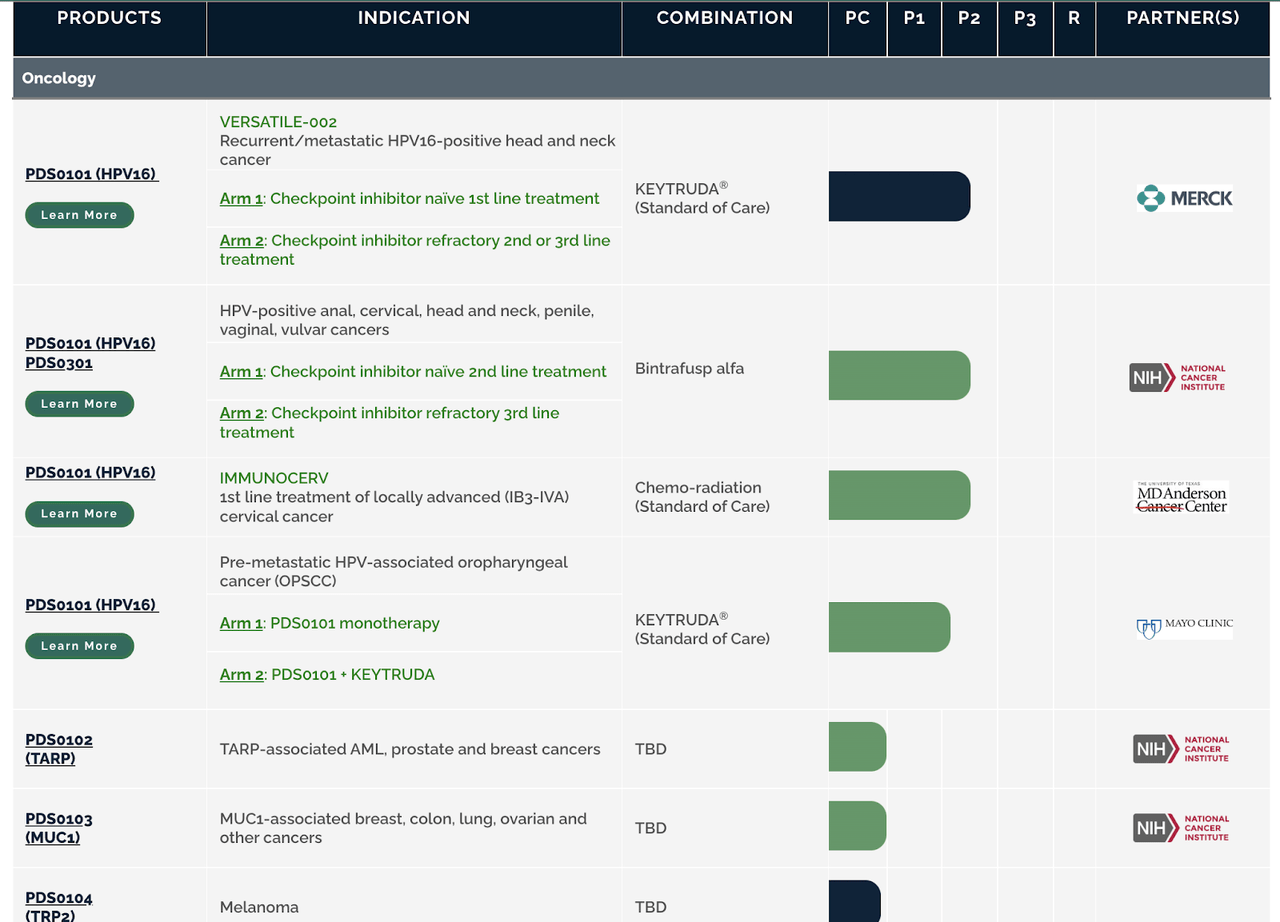 Lead asset PDS0101 is a therapeutic multipeptide liposomal vaccine against HPV-positive cancers "developed using the company's Versamune platform. Versamune is interesting; it consists of positively charged nanoparticles the size of viruses and one or more therapeutic agents – in this case HPV16 E6/E7 peptide antigens." PSD0101 is targeting multiple HPV-positive cancers in four phase 2 studies, with data are available for 100 patients on safety and 60 on efficacy. The company is collaborating with Merck, the MD Anderson Cancer Center, the National Cancer Institute and the Mayo Clinic and has an exclusive worldwide license from Merck KGaA, Darmstadt, Germany for tumor targeting of the IL-12 fusion protein PDS0301. Main indications are recurrent/metastatic HPV positive head and neck cancers, a study ongoing in a basket of cancers – HPV positive anal, cervical, head and neck, penile, vaginal and vulvar cancer, a phase 2 study of first-line treatment of locally advanced (IB3-IVA) cervical cancer and premetastatic HPV-associated oropharyngeal cancer (OPSCC).
The company has summarized the following data from its various Phase 2 studies: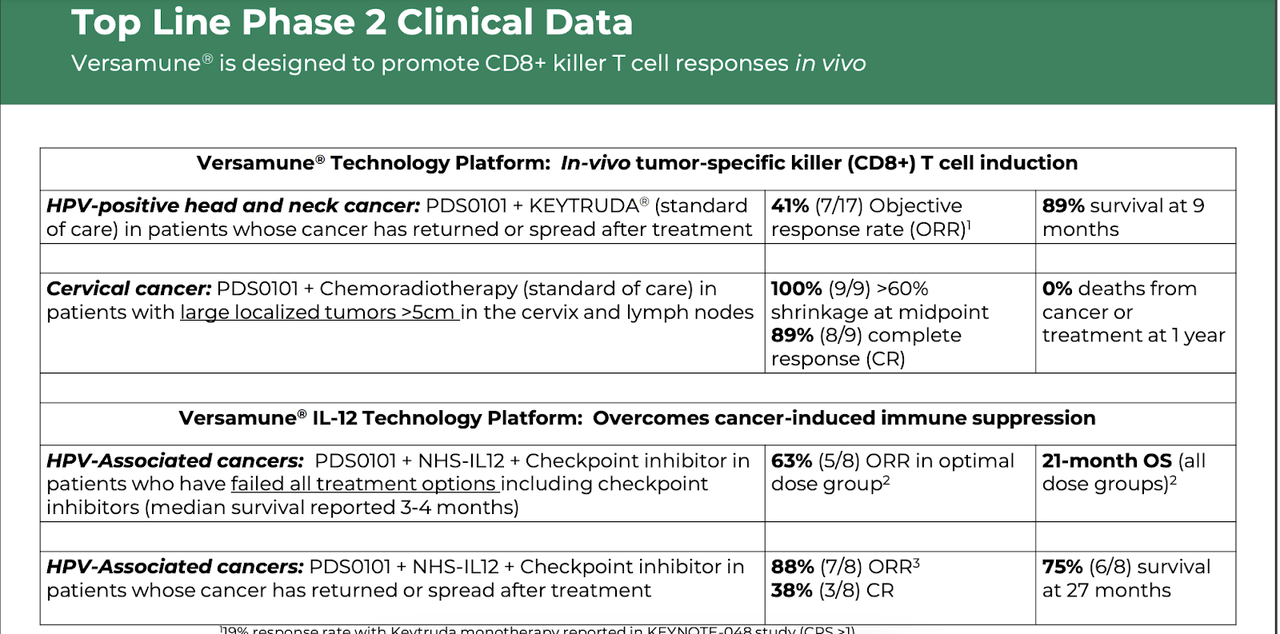 The lead compound PDS0101 targets HPV-associated cancers. More than 46,000 patients in the United States are diagnosed with HPV-associated cancer each year. HPV vaccines are now available, but the company, citing data from research on oropharyngeal cancer patients, says these vaccines will not impact the incidence of these HPV-associated cancers for decades to come. This represents a $6 billion market opportunity for PSD0101.
For the indication of head and neck cancer, the company is working together with Merck, whose Keytruda is the approved therapy for this indication. In preliminary data for PSD0101 plus Keytruda combination presented at ASCO 2022, an ORR of 41.1% was observed compared to only 19% for Keytruda monotherapy. The 9 month OS was 87.2% while the Keytruda 12 month OS was only 49%. Finally, 17% of patients had Grade 3 or greater AEs, while there were no Grade 3 or greater TEAEs in study PSD0101.
I have covered the data from the basket trial in my previous coverage. They plan to start a registry study based on this data. Over the past 18 months, PDSB has published a number of study results that are preliminary or preliminary data, and all have shown promise. However, the market will need them to complete a Phase 3 trial, including as a lead sponsor, before they get any real exposure. They have completed an end of phase 2 meeting with the FDA and are planning a pivotal study in HNSCC following the successful phase 2 VERSATILE-02 study.
finance
PDSB has a market cap of $324 million and $71 million in treasury. The Company has entered into a venture loan and security agreement with Horizon Technology Finance Corporation providing it with up to $35 million in term loans. The company keeps its spending very tight in check. Research and development expenses for the three months ended September 30, 2022 were $4.4 million while general and administrative expenses were $2.9 million. At that rate, even a fairly small cash balance should last you at least another 8 quarters – plus you have that credit that gives you a few more quarters. So they'll be set to medium if they can maintain that spending rate, which they obviously can't do once they start Phase 3 trials. However, one reason they are able to keep their R&D spending low is that their studies are sponsored by other people.
bottom line
To be honest I'm a bit perplexed by PDS. In all reports, their data seems to be excellent and provide a decent proof of concept for their platform. But their profit call consisted of a lot of theory (see CEO presentation). With the kind of data they produced (PDSB was a 2021 ASCO winner, up 94%), I would think they would focus a lot more on their data, top-line data from the VERSATILE study, plans for registration studies and so on. I just thought they're still debating how their platform builds on current immunotherapies and whatnot; when all they should be discussing – trumpets – is this data.
I haven't been able to figure out their low expenses either. Companies conducting four phase 2 trials fall short of spending just around $4 million on R&D. If they have other people sponsoring their studies, there should have been discussions about royalties and upfront and milestone payments and so on. There isn't much of that in their 10-K.
I think PDSB needs some patience. I'm not buying this stock right now, but will continue to monitor it for further progress on key studies. Then I look at the stock again.
Via the TPT service
Thank you for reading. At Total Pharma Tracker we offer:-


Our Android app and website offers a range of tools for do-it-yourself investors, including work-in-progress software where you can enter any ticker and get extensive curated research.
For investors who need hands-on assistance, our in-house experts walk through our tools and find the best investable stocks, complete with buy/sell strategies and alerts.
Sign up now for our free trial, request access to our tools and find out what we can do for you for free.