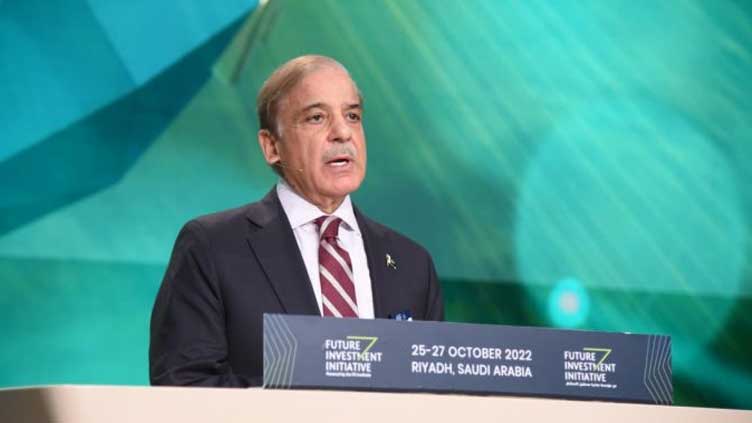 Pakistan
PM calls for investing in clean energy and modern tech tools for collective progress
RIAD (Dunya News) – Prime Minister Muhammad Shehbaz Sharif on Tuesday underscored the need for concerted efforts to explore the true potential of clean energy resources, coupled with the use of modern tools and technological devices to fully exploit the talents of younger generations and explore future avenues for progress and Prosperity.
Speaking at the Future Investment Initiative Summit in Riyadh on Tuesday, he said Pakistan is ready to reach out to potential investors to harness the future for generations to come. He said technology has transformed every sector and it can break down social, cultural and financial barriers and empower those who are able to use it. He said young women and men are building their careers with the help of modern technology.
The Prime Minister also proposed the Future Investment Initiative to set up a satellite center at one of Pakistan's leading universities to explore the fast-growing Pakistani market and drive innovation. He said the satellite could become a center of a network of researchers, innovators, investors and service providers to harness capacities that, if optimized, would take Pakistan to high levels of social and economic development.
Shehbaz Sharif further said that through information technology, e-commerce and innovation, we can meet all challenges, especially political, economic, social, educational and agricultural, as well as climate change.
He said there is an urgent need for men and women to work together and use IT tools for progress, prosperity and happiness.
The Prime Minister said as Chief Minister of Punjab he had empowered hundreds of thousands of youth through new tools of the digital world.
He said girls were given scholarships, students were given laptops, while farmers were given support.
' ; var i = Math.floor(r_text.length * Math.random()); document.write(r_text[i]);