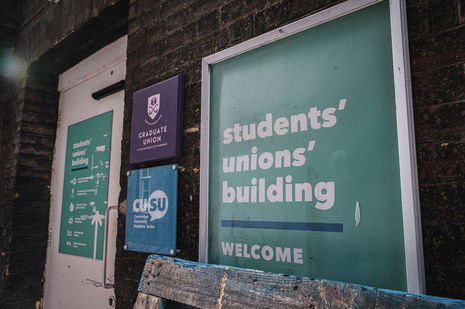 The Student Union Sabbatical Officers (Sabbs) want to drop the controversial proposal that SU should lobby for a ban on students from bringing private lawyers to university disciplinary hearings, University have learned.
Sabbs will propose a revised policy on attorney participation in hearings, which is scheduled for a vote in the student council on Monday (10/10).
The original proposal to ban lawyers was drafted by SU's Discrimination Reform Action Group last term as part of a campaign to reform the Office of Student Complaints and Appeals (OSCAA).
But after consultation — and significant backlash — Sabbs plan to drop it.
Instead, new proposals are likely to require OSCCA to make it clear that the "supporters" who bring students to disciplinary meetings do not act as legal representatives, except in "extraordinary circumstances".
Sabbs is also likely to suggest that SU encourages both the defendant and the accuser to ask questions ahead of the hearing. Accusers would also not have to testify more than once to avoid reliving traumatic events.
Although the Sabbs no longer support the ban, they must submit an amendment to the council and cannot unilaterally withdraw the motion.
As such, the ban may not be lifted depending on how council members vote.
Upon hearing of the change, college and student council member Sam Carling said, "I am heartened that the Sabbatical Officers are planning to drop the demand for attorneys in hearings following consistent student response.
"We all agree that there is a real problem here – but we need to solve it by not taking away the experienced representation in disciplinary proceedings that some students have access to, but by instead ensuring that all students have access to it." .
"I look forward to discussing how we can achieve this goal at Monday night's Council meeting and I strongly encourage JCR and MCR representatives to attend so we can ensure this clause does not make a comeback."
SU has no direct jurisdiction over OSCCA. Instead, proposals voted on in Council bind the SU to lobby OSCCA to enact specific policies. OSCCA is under no obligation to listen to or act on the SU's proposals.
All students are invited to attend the council, which will be held in person for the first time this Monday at 7:00 p.m. in the Hick's Room of the University Center. But only JCR and MCR representatives, undergraduate and postgraduate representatives from university schools, and SU campaign leaders can vote.
University is the independent newspaper of the University of Cambridge, established in its present form in 1947. In order to maintain our editorial independence, our print newspaper and news website does not receive any funding from the University of Cambridge or its constituent colleges.
We therefore rely almost entirely on advertising to fund ourselves and we expect a tough few months and years.
Despite this situation, we will look for inventive ways to serve our readership with digital content and of course also in print!
We therefore ask our readers, if they wish, to make a donation of £1 or more to help cover our running costs. Thank you, we hope you can help!