Just over half of Americans surveyed would prefer a gas-powered vehicle to an otherwise identical electric vehicle (EV) at the same price, according to a recent study by Australian car insurance comparison site Compare the Market.
The survey of 1,006 American adults found that 52.9% of respondents said they would prefer an internal combustion engine (ICE) vehicle, while 33.8% said they would choose an electric vehicle. The rest did not express any particular preference.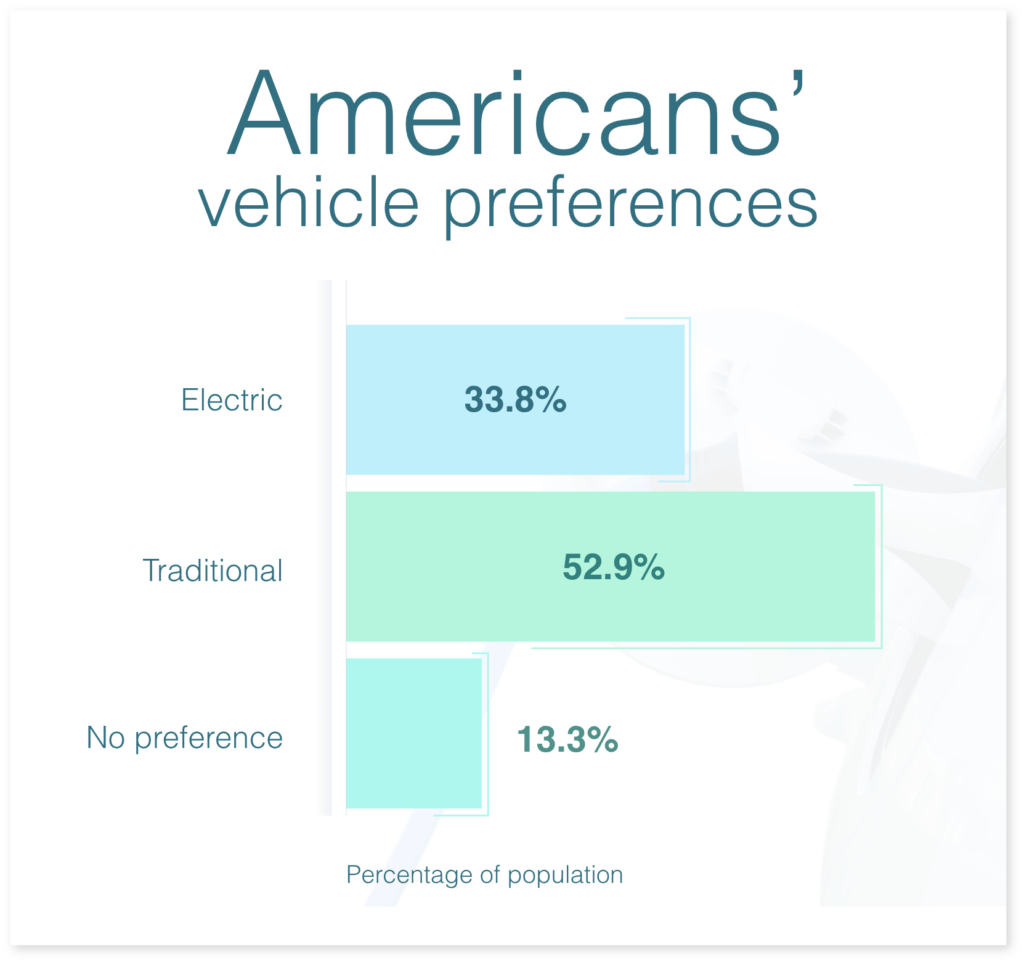 The preference for internal combustion engines is similar to that previously identified in Deloitte Consulting's 2022 Global Automotive Consumer Study. There, the respondents expressed an even greater preference for combustion engines with 69% to 27%.
It is not clear whether the greater interest in electric vehicles reflected in the more recent survey is due to changes in attitudes, differences in opinion, or other factors.
Respondents to the Compare the Market survey were asked what they would prefer if two identical vehicles were available in both conventional and electric models for the same price.
The survey found that 18-24 year olds had the strongest preference for electric vehicles by age group at 43%, while the 55-64 year old group had the strongest preference for ICE vehicles at 70%.
According to the survey, the biggest obstacle to owning an electric vehicle was not the vehicle's range (cited by 50.9% of respondents) or the charging time (50.5%), but rather the lifespan of the battery pack and the replacement costs (56.4 %).
Second on the list was the purchase price, which was mentioned by 54.4% of those surveyed.
According to Compare the Market, other common reasons for deterrence are the availability of charging stations and the belief that electric vehicles are not environmentally friendly. Figures for these results were not provided.
Around 10% of those surveyed stated that they did not see any barriers to entry.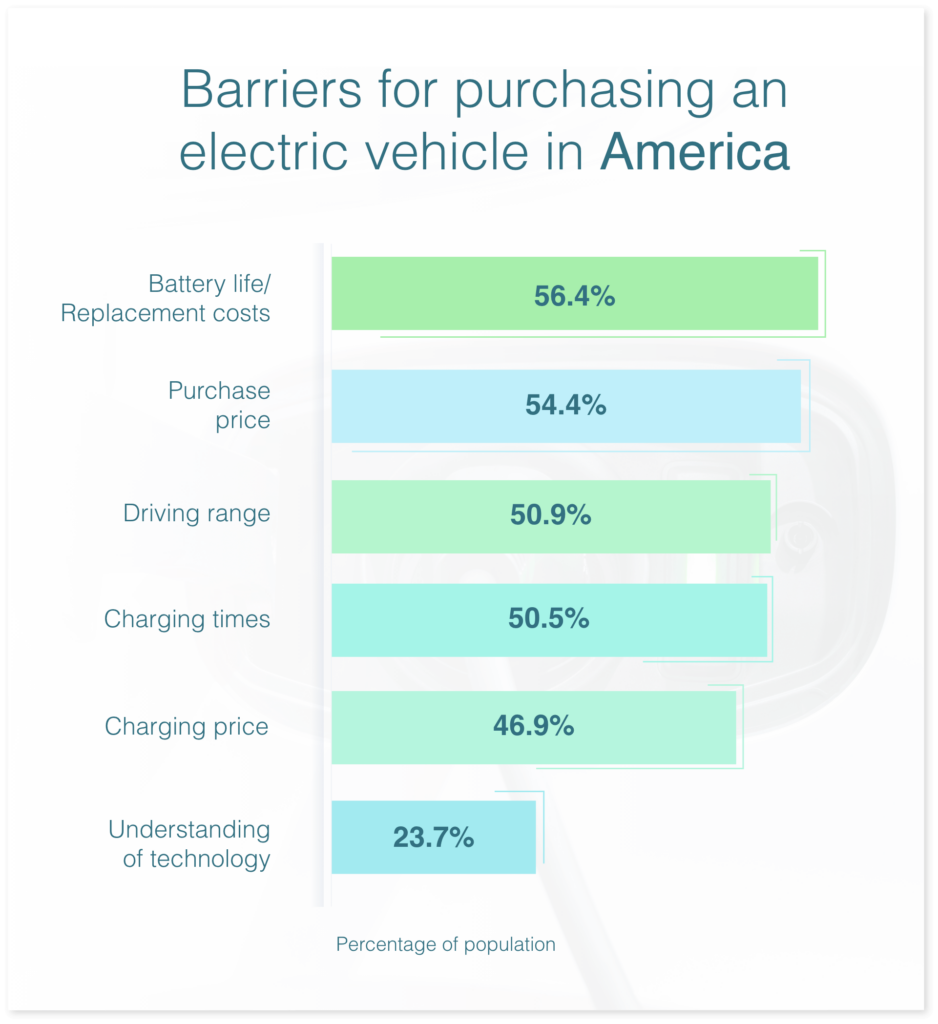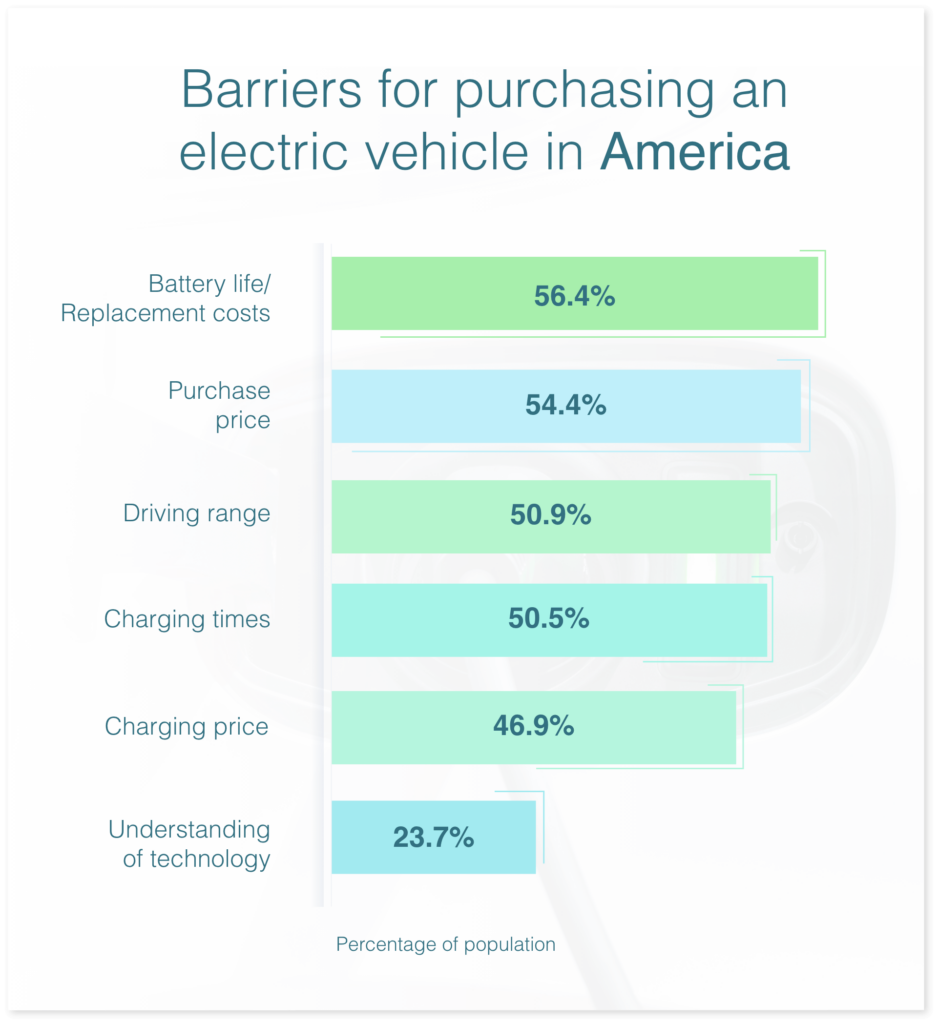 The oldest generation in the breakdown, those aged 65 and over, were the most likely to choose "technical literacy" as the barrier. However, the most common hurdles they cited were charging time and price, the vehicle's range and the cost of replacing the battery pack, "which could indicate that this age group actually has a lower understanding of the technology than other age groups included in the study". , said the authors.
The data also showed that not only are women more likely than men to prefer traditional vehicles, but they are also more likely to encounter several barriers to purchase.
The survey asked Americans how much they would be willing to pay for a new vehicle. While the results show an overall preference for lower prices for both vehicle types, there is an interesting shift at the price point from $45,000 to $54,999, where more respondents would be more willing to spend more on an electric vehicle.
At the high end of the scale, there are more than twice as many people willing to pay more than $65,000 for an electric vehicle than those who would pay the same amount for a conventional vehicle.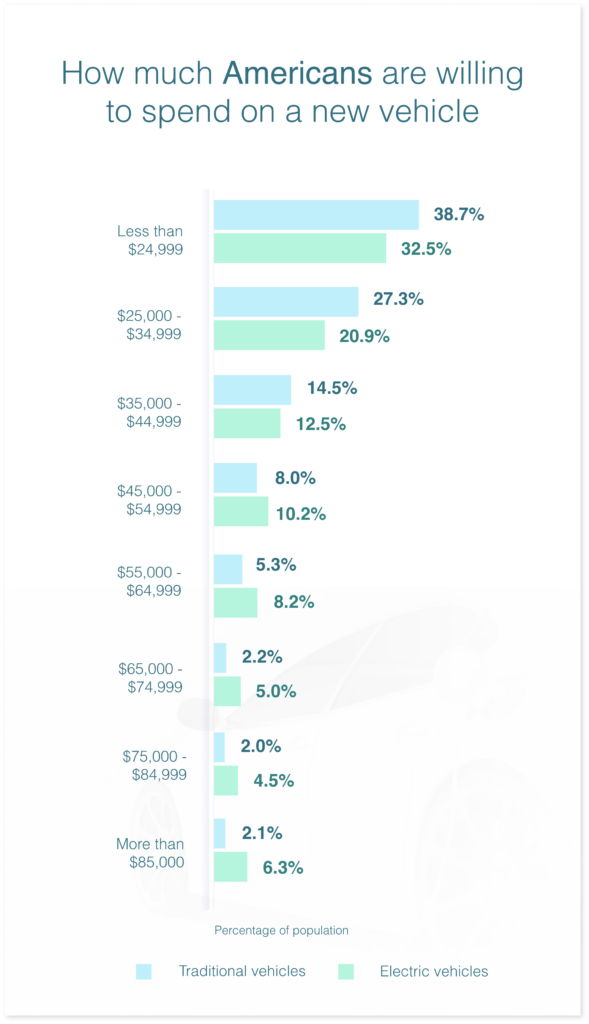 Comparing data from a lower financial threshold, 32.5% of respondents said they would spend no more than $25,000 on an electric vehicle, but 39% said they would spend the same amount on an internal combustion engine vehicle.
"Although people are open to spending more on an electric vehicle, the fact remains that for many they remain largely unaffordable, with price being a key barrier to entry," the authors said.
Compare the Market also surveyed adults in Canada and Australia, where preferences for electric vehicles outweighed interest in their ICE equivalents. However, the research found some similarities:
Men are more likely to prefer electric vehicles than women.
Younger age groups (between 18 and 34) are more likely to prefer electric vehicles than any other generation.
When buying a new car, people were more willing to pay more for electric vehicles than for conventional vehicles.
Women were generally motivated to spend less on cars than men.
Purchase price and battery life/replacement cost were the two main barriers to entry for purchasing an EV.
Older generations, those 55 and older, were most likely to be deterred from buying an electric car because of a number of barriers to entry, such as battery life, range and charging costs.
Compare the Market-commissioned Pure Profile survey of 506 Australian, 1,006 American and 1,009 Canadian adults in March 2022.
More information
A study of 1,000 Americans found that 7 out of 10 prefer internal combustion engines
pictures
Featured image by iNueng/iStock
Share this:
Related