The festival returns this year with great news: the Luccaverse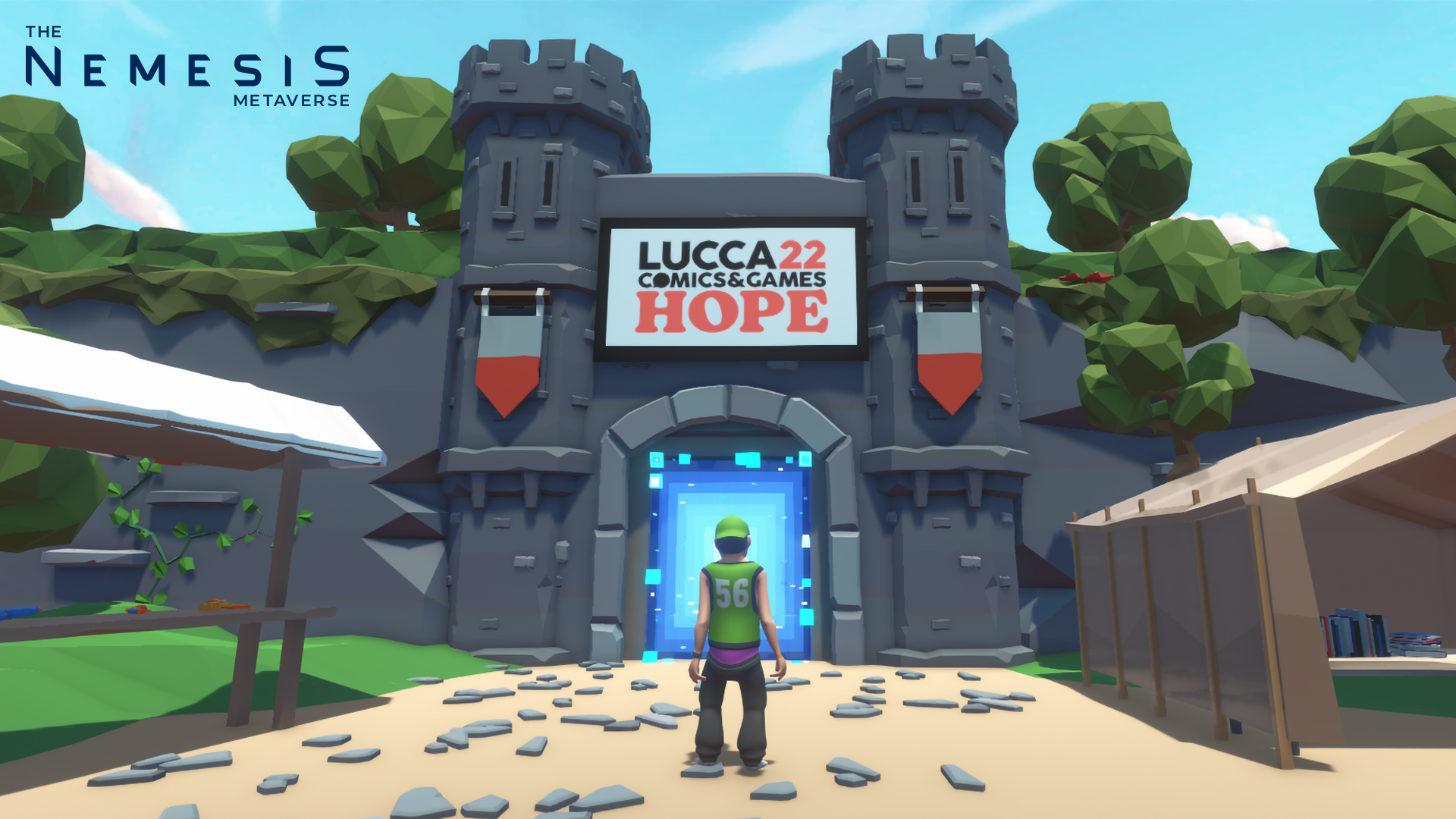 On October 28th, The Nemesis at the Metaverse will host the first virtual and gamified version of Lucca Comics & Games, kicking off a longer-term project that will continue to evolve during future editions of the event.
Lucca C&G is an international comic, animation and games fair, the first fair of its kind in Europe and the second worldwide. This year the event will include new technological developments related to NFTs, Blockchain, Web3, Artificial Intelligence and Metaverse.
The partnership with The Nemesis is one of the clearest signs of this wave of innovation: Luccaverse will be a bespoke virtual world, reproducing the backdrop and atmosphere of the festival, but also a great opportunity to discover the new features of the latest technologies in order to further improve them user experience.
The Metaverse will be available and accessible from both desktop (simply via a URL link) and mobile app, allowing users to explore for the first time the city of Lucca, its main streets and monuments recreated in virtual reality were designed. Gamification will be another important part of this experience, as this includes exploring the city's famous landmarks, but also includes challenges and dynamic activities, such as timed speed runs and trivia quizzes to test users' skills and engagement ( e.g. custom skins created especially for the festival, like that of the legendary Lady Hope, the icon of this edition), as well as streaming content and live events.
A teaser version of the metaverse is already available (www.thenemesis.io/@luccaverse) and it is possible to watch the video of the making of the official poster of the Lucca C&G 2022 edition, as well as the press conference presenting the festival program.
"Participating in such an important event as Lucca C&G, popular both in Europe and worldwide, gives us the opportunity to show its audience, already very interested in gaming and related topics, how Metaverse and Augmented Reality can be a natural and consistent evolution of these industries," says Alessandro De Grandi, CEO and Founder of The Nemesis.
The company is not new with this type of projects: as an entertainment platform that offers innovative virtual reality experiences, many major market brands and influencers have already chosen The Nemesis to increase the engagement of their communities with entertaining gameplays and live events in different and exciting environments to boost metaverses. GP Monza Meta Circuit, Lega Serie A Soccer, Diabolik @ Cannes Film Festival, Guess to name a few.
SPEAKER
Alessandro De Grandi, CEO and Founder of The Nemesis
LinkedIn profile: https://www.linkedin.com/in/alessandro-de-grandi-ab314531
LEFT
Website: https://thenemesis.io/
Download Android app: https://play.google.com/store/apps/details?id=io.thenemesis.android
Download the iOS app: https://apps.apple.com/it/app/the-nemesis/id1550123242
MORE USEFUL LINKS HERE
media contact
Name of the company: The Nemesis
Interlocutor: Roberta Arsuffi, CEO of The Nemesis office
E-mail: Send e-mail
Phone: +393270620860
Address:Via F.Pelli, 13
City: 6900 LUGANO
Federal State: CH
Country: Switzerland
Website: https://thenemesis.io/