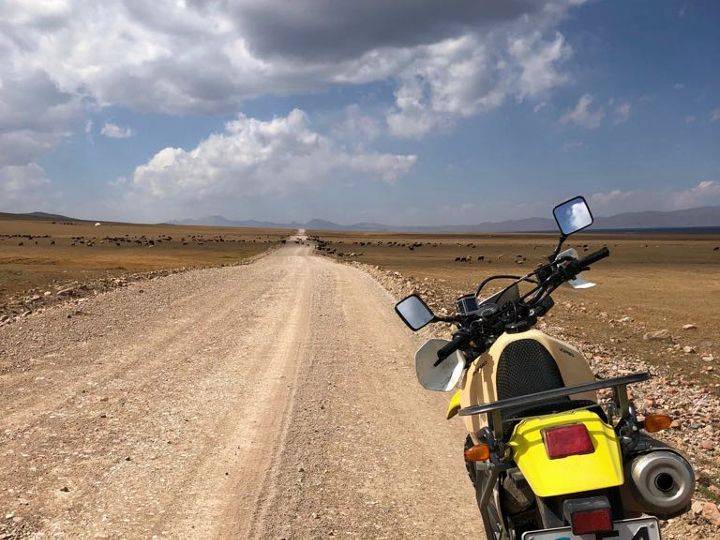 Kyrgyzstan. Most may not have heard of this quiet Central Asian country that was once part of the Soviet Union. It's a tiny little country above India's crown, Kashmir, and smaller Tajikistan, our northern neighbor. Its population, almost 66 lakh. For perspective, that's two lakh less than all of Himachal Pradesh. Its capital is Bishkek, its currency is the som and the exchange rate between it and the Indian rupee is one to one.
The reason I am telling you all this is because Kyrgyzstan is an amazing country for motorcycling and here is how you can do it too.

In another life I led adventure motorcycle tours and treks. My travels have taken me through 17 countries in Asia, Africa and Europe. And as a series I will try to share my experiences and learnings over the years so that you too can do such road trips. I will share key facts, some useful tips, some highlight experiences and important preparation tips wherever needed. So let's get started!
Kyrgyzstan landscape

Kyrgyzstan is an alpine country. The scenery quickly changes from lush green, snow-capped Himachali mountains to rocky and intimidating Ladakhi-style mountains. But unlike the Himalayas, these mountains rise above vast grasslands and meadows rather than deep valleys.

This country is home to some of the best sunsets in the world and one of the safest to travel!
Flights to Kyrgyzstan from India

Flights to Kyrgyzstan (from India) are limited but cheap. The most convenient option is to fly to Bishkek from Delhi – a return ticket is available for less than Rs 20,000 if booked in advance. You can enter Kyrgyzstan with an e-visa, which you can also easily apply for on the official website. The only challenge is that locals don't accept Indian rupees at the counter, so get some US dollars. International credit cards work, but it's best to have some cash on hand to avoid bank surcharges on routine transactions. ATMs in the countryside are few.
capital of Kyrgyzstan

Bishkek as a city will surprise you. Mixed with ex-Soviet architecture and modern infrastructure, the cityscape is lively, active, vibrant and rich in history. Flanked by large gardens are well paved wide strips of gray asphalt. If you find yourself in a sidewalk cafe, you will hear mostly Russian and Kyrgyz spoken, while some English is also spoken. I would suggest that you learn a few basic words and phrases in Russian and you're really good enough to go on a road trip anywhere in the country.
Motorbike/car rental in Kyrgyzstan

Use Bishkek as your base camp because if you need something specific, this might be the best place to find it. The city also has a wide network of motorbike and car rental companies. Cars are mostly old American imports (Ford Rangers, Toyota 4Runners, that guy) and motorcycles – well, anything from an Ural to a BMW F800GS can be easily found. Be aware of the daily rental fees and most importantly the insurance. If you don't take out comprehensive rental car insurance, you can quickly burn a lot of money if you damage the vehicle, which can happen. So don't save.
Kyrgyzstan Travel Guide

You can easily look up good riding routes on the Internet. From one-day rides in and out of Bishkek to long multi-day routes with 1500 km of full on-road and off-road rides. As you leave Bishkek behind, the hustle and bustle subsides, until you may pass a car every 10 minutes at most. There is only you, your bike/car and this beautiful country.

In most cases, the rental partner will have their own designated routes for you to drive on and will also provide roadside assistance on those routes for a fee. Therefore, the fear of being stranded somewhere far away is not a challenge. Request a local SIM card, top up a few bucks and you're good to go. But deep in the mountains, finding a network can be a challenge.
Accommodation in Kyrgyzstan

Finding accommodation in Kyrgyzstan is similar to traveling through Leh and Ladakh or the Spiti Valley. Cities like Bishkek offer the best hotels and as you venture further from them the stay becomes more modest but also very unique once you know what to look for. The people of Kyrgyzstan are nomadic and they used to live, and some of them still do, in tall round leather tents called yurts. Staying in a yurt under the stars is an absolute must in Kyrgyzstan.
Kyrgyzstan food culture

Another example is meeting members of the ancient golden eagle hunter community. They serve horsemeat with spaghetti, accompanied by local bread (very popular there) and fist-sized momos. The food is mostly bland for those with strong tongues craving curry, but tasty if you're a bit open-minded. The good thing is that even vegetarians will have enough choices, but meat lovers will be in heaven.
Kyrgyzstan travel expenses

To top it off I would suggest you budget around Rs 1.5 lakh all inclusive for around 10-12 days holiday in Kyrgyzstan. Be smart about your stay and the bike/car you choose and everything else like food and gas is pretty affordable. Pick up a Suzuki DRZ400, stay in rooms for less than $50 a night where breakfast is usually free, and spend your time on the road exploring this beautiful country.
Sights in Kyrgyzstan:
1. Tash-Rabat (15th Century Silk Road) UNESCO World Heritage Site
2. Ala Archa National Park
3. Issyk-Kul Lake (one of the largest alpine lakes in the world)
4. Song Kol Lake
5. Karacol
6. Cholpon Ata
7. Osh
8. Burana
9. Kel Suu
10. Jyrgalan Valley