Gov. Spencer Cox addresses members of the media Tuesday during a symposium on social media and youth mental health at the OC Tanner in Salt Lake City. (Kristin Murphy, Deseret News)
Estimated reading time: 5-6 minutes
SALT LAKE CITY — Utah Gov. Spencer Cox had strong words for social media companies Tuesday during his symposium on social media and adolescent mental health.
Citing concerns about social media's impact on teens' mental health, Cox and a panel of lawmakers discussed how the government can regulate social media to protect teens and students, potentially banning cellphones in classrooms and those under a certain age creating accounts prohibits certain platforms.
"There is an amplifying effect that affects us all and I am deeply concerned about that," said Cox. "…I know we have some social media companies in the space, we're glad you're here. We draw your attention to this. You have a few options. You can fight, and that's okay. We are ready for the fight. Or you join us and become part of the solution."
Regulate Big Tech
Cox's comments came after several hours of panel discussions with experts and lawmakers about the potential harms of social media and how parents can help protect their children.
Social media companies and the algorithms they use to push content to users have come under increasing scrutiny from politicians on both sides of the aisle, and Utah lawmakers said they wanted our state in this one matter takes a leadership role.
"I think people across America know there's a problem," said Sen. Mike McKell, R-Spanish Fork, who was attending a legislative panel. "I know some laws come from Texas, especially Louisiana, California. I would like to see Utah take a lead on this issue. … We are a state with many children and values ​​that are important to us."
McKell is Cox's brother-in-law, and in 2021, Cox used his administration's first veto to strike down a McKell-sponsored law that would have required social media companies to communicate their moderation policies to users. Opponents of the bill said it may violate the First Amendment.
Cox compared today's social media companies to tobacco companies of yesteryear, which faced tough government regulations when the dangers of smoking became known. Although the dangers of social media are different from the dangers of tobacco — and causality between social media use and mental health problems in teens hasn't been officially established — Cox was referring to statistics showing that nearly one in five Utah students are in the classroom 6 to 12 has contemplated suicide.
Seeing this and other data showing increased rates of depression and other mental health problems among high school students since 2010 was an "awakening" for Cox.
"We hope to see the same awakening in other policymakers," he said. "…Government will not solve all of our problems…but it can help us as parents, as individuals, as families, to take action together." Now, at 13, if your kid comes home with a cigarette… you'd probably freak out, right? We're doing the same thing (on social media)."
---
I know we have quite a few social media companies in the space, we're glad you're here. We draw your attention to this. You have a few options. You can fight and that's okay. We are ready for battle. Or you can join us and become part of the solution.
—Utah Gov. Spencer Cox
---
With the 2023 legislative session beginning in less than a week, lawmakers seemed eager to make a statement and confident that other lawmakers and constituents would be on board. While details are still being worked out and no bills have been released, McKell said he's optimistic lawmakers will make progress on requiring parental tools and age verification for social media apps.
"I've spoken to many parents, and I don't know if I've spoken to a parent who doesn't agree with these efforts," said Sen. Kirk Cullimore, R-Sandy.
Freshman Rep. Trevor Lee, R-Sandy, is working on another undisclosed bill that would ban cell phones from Utah public school classrooms.
If those efforts aren't enough, lawmakers are weighing the benefits of blocking people under a certain age from signing up for social media. Rep. Jordan Teuscher, R-South Jordan, compared it to age limits set for obtaining a legal driver's license.
"We've talked about some of these malicious algorithms that we're seeing, there's a component of legislation that we need to have there that puts some skin on the social media companies and how they're pushing these addictive features," said Teuscher. "If they continue to move in this direction, if they don't protect our children, there is liability. We are looking for the best way to do this."
"We talked about the states as laboratories of democracy, we will find out," he continued. "We're going to try a few things in this session and some of them may work, some may or may not work. … It's just that this unrestricted access doesn't make any sense."
Last week, the Seattle public school system filed a lawsuit against several social media platforms — including Facebook, Instagram, TikTok, Snapchat and YouTube — arguing the sites are having a negative impact on students' mental health.
While he said he wasn't keen on suing all social media companies, McKell said similar actions could prove effective in court.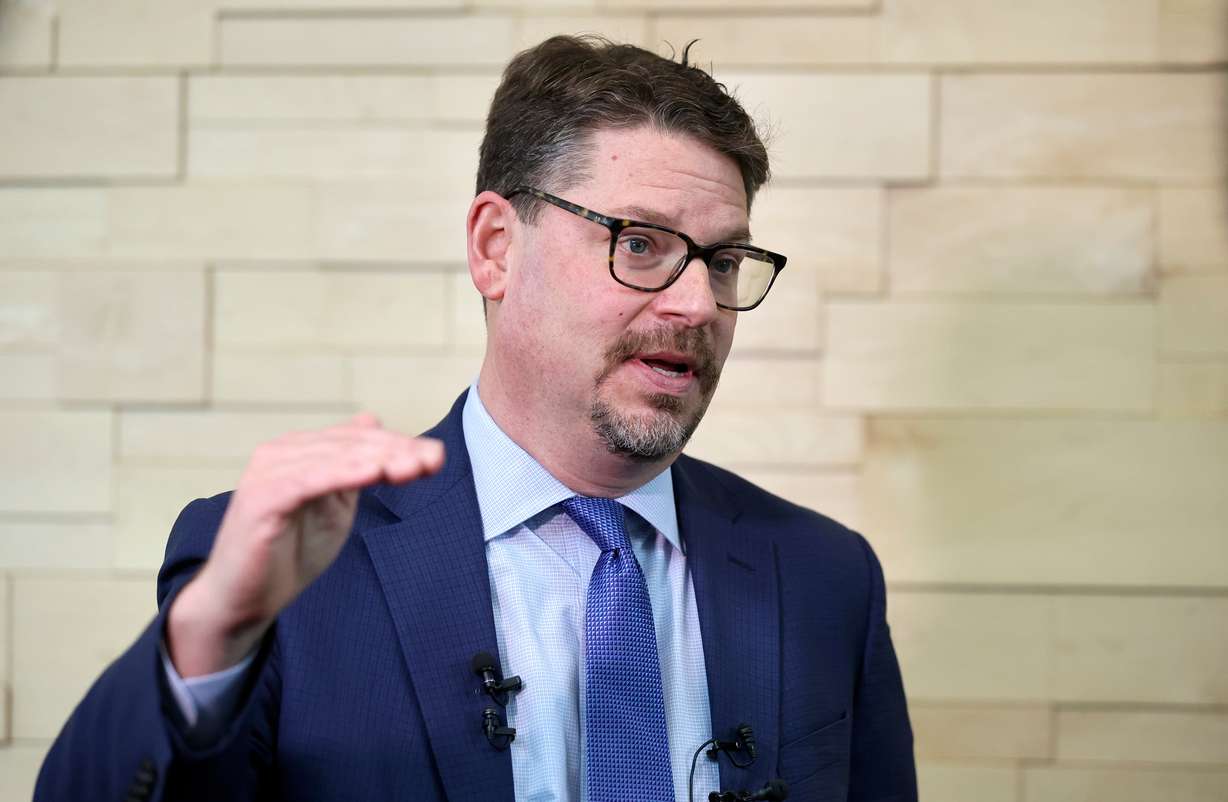 How parents can help
Cox was joined earlier in the day by Brad Wilcox, a professor at the University of Virginia and director of the National Marriage Project. Wilcox said he's seen a dramatic increase in the number of students receiving shelters for people with serious mental health problems, but offered advice to parents worried about the impact social media is having on their children.
First off, he said many parents feel powerless when it comes to preventing their kids from using certain platforms, and he said he'd like to give parents more power, "especially in terms of … yes or no to say about various social media applications". Parents don't have to ban social media entirely or allow children access to all platforms, they can choose the platforms they feel most comfortable with.
In a study conducted by Wilcox last year, he also recommended keeping phones out of children's rooms after bedtime and limiting the time children spend on social media to no more than two to three hours a day.
×
photos
similar posts
The latest stories from the Utah Legislature
Other stories that might interest you